Simon Mills in conversation with designer Marc Newson and Montblanc creative director Zaim Kamal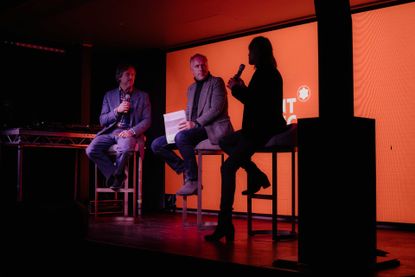 (Image credit: TBC)
Wallpaper* recently hosted an evening with Montblanc to commemorate the launch of the (Montblanc M) RED, a new writing instrument designed by globally renowned designer Marc Newson to raise funds in the fight against AIDS.

Since launching in 2006 the RED charity, founded by U2 frontman Bono, has generated over $.5bn for the Global Fund by partnering with creative brands such as Montblanc to create extraordinary products and experiences. The aim of RED is to raise awareness and funds to help eliminate HIV/AIDS.
'Twenty-seven million of the 36m people living with HIV today live in Sub-Saharan Africa, and that's where the majority of RED funds go towards treatment programmes,' explained Meaghan Condon, director of partnerships for RED, as she introduced the conversation between Marc Newson and Montblanc's creative director Zaim Kamal. 'We have impacted over a 110m lives, but there's still a lot more work to be done', she added, 'so we are incredibly proud to be working with Marc and Montblanc on this incredible collaboration.'
Wallpaper*: Marc, please tell us how you got involved with RED?
Marc Newson: Bono asked Jony Ive and me to curate an auction back in 2013. There had already been one auction before that, in 2008, curated by Damien Hirst, which raised a phenomenal amount of money – $21m or something. So, while Jony and I were obviously proud to be associated with the cause we were also slightly overwhelmed by the fact that Damien had raised so much money.
In the end we managed to raise $44m in a single night. The format was simple: to curate an auction of things that we liked. So, it was a question of identifying the things and approaching the people that manufactured those things, or who were responsible for them, and convincing them that this was a worthwhile cause.
W*: Can you describe some of the objects you chose?
MN: It was a very broad and eclectic. Jony and I wanted to champion certain things that we'd loved throughout our lives. We wanted to curate, customise… and in some cases, even design them from scratch.
We designed a Leica camera for example – and, turned this into a way of generating revenue for RED. [The auction also included a Dieter Rams for Braun hi-fi system, a thermal window from the US space shuttle, a vintage Fiat 500 Jolly in red, a pair of Apple earbuds in rose gold and a Zvedea cosmonaut suit from a 1990 Soviet space agency mission].

I'm not sure we could have raised that much money without Bono who was also the auctioneer, but there were a number of people like him involved – you know, very, very persuasive people. The RED charity has ways and means of exploiting – in the nicest sense of the word – all of the avenues that are available to them.
W*: During your career you have designed many things from a plane and a car to watches and several pairs of sneakers. When you are creating something on the scale of the (Montblanc M)RED fountain pen, how does the design and engineering process differ from a larger project?
MN: There's really no difference between engineering a pen, or parts of an aeroplane. I did a lot of work on the Qantas A380 aircraft programme and I'm also designing some very, very large yachts at the moment. At the end of the day, it's just a question of scale. You apply the same logic, methodology, and philosophy to designing a pen as you would anything else.

The wonderful thing about the pen is that, unlike a lot of those things, it is something that I've used since the get-go. The pen is the way I transmit my ideas from my head to reality. So when Montblanc gave me the opportunity to design a pen in struck a deep chord. Just the idea of designing a pen for Montblanc, who are arguably the most well-known and brilliant manufacturer of pens in the world – gave me a thrill. If you're going to design pens for anyone, it really should be with them!
W* Marc talks about the sensory experience of using a pen; Zaim, do you get that same sensation when using a Montblanc?
Zaim Kamal: Using a fountain pen – we call it a 'writing instrument' at Montblanc – is a way of making a mark in terms of what you say. It's basically the touch and feel; it's something that you don't think about, but it's there when you need it. So, the sensory experience is how you hold it, how you touch it, and what it actually communicates.

Wallpaper*: We have instant access to computers and tablets. We can send texts on our smartphones. We can email on our laptops. So, why do we still need a pen?
MN: People always ask me, what's my gauge of what's relevant or not, and ultimately I'm my own yardstick. I design things for myself. I'm a consumer, I spend money on things. So what would I want to spend the money in my pocket on? One of those things happens to be a pen.

I feel – and I know I'm not the only one amongst designers of my generation who feel the same – that there is a growing need to have analogue objects. A need to be able to use, relate and have a connection with essential tools in our lives. Things that stand the test of time in a way that technology simply – I don't say can't – but probably won't.
W*: During your own personal creative processes, do you always start with pen to paper?
MN: I do, because that's how I grew up. It's really hard to beat the spontaneity of the gesture of what an object like a writing instrument gives you. I think for the foreseeable future, the pen is, gesturally, just the most fantastically immediate way of doing something.
ZK: I completely agree with that. I draw everything, and I travel a lot so I communicate with the design team at Montblanc by sketching in my sketchbook. I take a photos and send them off; they rework the ideas in the studio and send them back. If you start with a hand sketch it gives them the tactility and the understanding of the volumes they're working on, and this is very, very important, to have the tactility, because otherwise it becomes too flat and technical.
W* So there's a more organic, tactile feel to designing with a pen you mean…
ZK: it's the way you communicate fastest, quickest, and the most directly. It's also the way of interacting with each other. Have you seen the Yohji Yamamoto documentary Notebook of Cities and Clothes by Wim Wenders? In the last scene the pattern cutters are on the floor and there's one pen, one pair of scissors and five people. One by one they pick up the pen, they draw something, somebody cuts and then somebody else picks up the pen… This interaction is actually what design is about – it's not just one idea, it's many, many ideas overlaying to create the final product.
MN: I just love the fact that when you use a fountain pen the ink visibly dries in front of you. It's a wonderfully tactile, real-time experience.
W*: Zaim; why was Marc Newson the prefect collaborator for Montblanc?
ZK: This is the first time in the history of Montblanc that a fountain pen was designed by somebody external. We chose Marc because we share similar values; the importance of tactility, form, volume etc. so we wanted to see what it was like for Marc Newson to create a new icon of Montblanc.

I think we managed that really well, because not only did he respect what we were about, but he also disrupted and challenged us. The 'second plateau' on the pen, for instance, was a technically one of the most difficult things we have done…
W*: Yes.. talk us through the pen's 'Second Plateau'.
ZK: The design of a fountain pen normally is a consistent clean line. Marc did this cut. It looks simple, but technically to do this perfectly flat and create the perfect angle or radius that Marc wanted, was one of the most challenging things that our team had to do. I remember the first time that we presented the drawings, the team looked at me and said 'can you not convince him to change it?'
I said not only can I not convince him, he's put the Montblanc motif on it. I remember their sense of pride when they showed us they'd found the perfect angle. I think that finding the solution to this kind of challenge is why Montblanc is cherished and loved.
INFORMATION
For more information visit the Montblanc website (opens in new tab)
You might also like
Wallpaper* Power 200: the world's top design names and influencers

It's back with a double helping of provocation and praise. We have plumped up this year's Power List to a meaty two-ton's worth of carefully measured rankings, an upscaled calibration of design achievement. As we strongly suspected, last year's Power 100 caused a considerable stir and provoked strong words. And, as last month's editor's letter made clear, even alarming threats of revenge and recrimination. So this year, unchastened, we thought we would do it all again, but double the dose. To mark our 200th issue, the power 100 has become 200. Or rather 100+100 (normal disservice will be resumed next year). And, in a self-congratulatory nod to our keen eye for talent and perhaps the propulsive effect we have had on nascent design careers, we have trawled the Wallpaper* archives, retraced our expert truffling and recovered the debut appearances of future Power Listers. (Look out for long-lost hair, unlined faces and eyes undimmed).

By Rosa Bertoli • Last updated
View More ▸