Rolling out: Marc Newson reinvents Louis Vuitton's trunks for the 21st century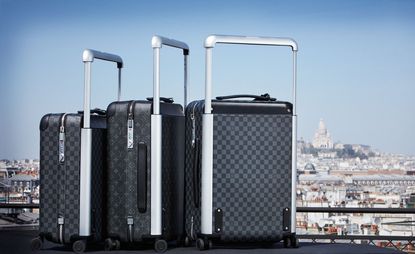 (Image credit: Louis Vuitton)
Louis Vuitton is launching an innovative new range of rolling trunks for the 21st century traveller, designed by Wallpaper* Power Lister and internationally renowned industrial designer Marc Newson.

Its core is moulded as a slim and elastic, shock-proof mesh matrix of self-reinforced polypropylene composite. To achieve the greatest lightness possible, Vuitton's celebrated Monogram canvas has been slimmed down 50 per cent without compromising its original characteristics.

Unlike most rolling trunks, the extendable cane, engineered in lightweight anodised aluminium, has been relocated to the outside, adding structure and strength and removing bulky bumps and ridges from the interior, allowing for more packing space. A new transversal side hinge is built into the structure of the trunk, and the three-digit combination zip-pull lock system – with a single zipper pull – is designed to reduce weight and avoid the usual stress points of double zip pulls.

The new trunk comes in three sizes: mini (50 x 35 x 20 cm), cabin (55 x 39 x 21 cm) and maxi (68 x 46 x 26 cm). All three sizes are available in the classic Monogram canvas, Monogram Eclipse, Damier Graphite, Taiga leather and a rainbow of seven colours of Epi leather.
Newson and Vuitton worked rigorously to achieve some impressive stats: 36 litre capacity for the cabin size – an increase in internal volume of 13 per cent compared to a similar sized trunk – and a weight of a mere 2.7kg for the mini version and just 3kg for the cabin size. Development took around 18 months, although frequent flier Newson says he's 'probably spent 20 years designing these things in my head, long before I knew that I was going to be doing this for Louis Vuitton'.

'I think it's safe to say that we're striving to break new ground in terms of developing a product which is one of the lightest in the market, and from a technical perspective is one of the most rigorously designed and engineered,' explains Newson. 'I'm obsessive about packing everything into a bag of a certain size, which is why it was so important for me to design a product that could tick all of those boxes and be the perfect piece of luggage for a person like me, [who] won't travel with anything more than is absolutely necessary.'

To accompany the launch, the French maison will offer shoppers who purchase their cases a 48 hour after-sales repair service in 14 global cities, which will also be integrated into the Louis Vuitton travel app.
'I'm obsessive about packing everything into a bag of a certain size,' explains Newson, 'which is why it was so important for me to design a product that could tick all of those boxes and be the perfect piece of luggage for a person like me, [who] won't travel with anything more than is absolutely necessary.' Click above to learn more about the collaboration
INFORMATION
Photography/videography courtesy Louis Vuitton