Concrete futures: French artist-designer Frédérick Gautier sets his sights on LA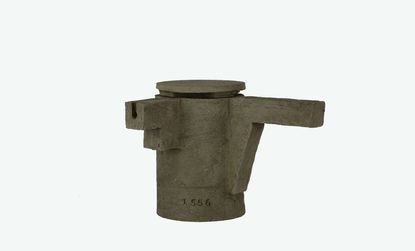 (Image credit: FCK)
For more than a decade, Frédérick Gautier worked as an art and marketing director for the French production company StudioCanal on some 200 films (including Inland Empire with David Lynch). But by 2009, he was burnt out on servicing the creative visions of others behind the scenes and left the film industry.

'I wanted to create for myself,' says Gautier, who dropped everything after a transformative encounter with some landscape designers and spent the next four years studying the craft at the École Nationale Supérieure du Paysage de Versailles. During that time he made a number of performance art pieces, including Royal Splash, for which he swam in the forbidden waters of the grand canal at the Chateau de Versailles while designer Agnès B and French director Laurent Perreau filmed the action.

At the same time, Gautier was also interested in making some plates for the vegetables he was growing – 'to eat my production,' says Gautier, who refers to these objets as 'tools to eat', that he now uses as examples in teaching workshops. 'I started to use the clay from my layout and maquettes for public landscape and I fell in love with this new medium.'

Last summer, he made a bigger splash (and material revelation) aboard the Louise-Catherine, a boat converted by Le Corbusier, for a performance dubbed Tx100. On the River Seine, Gautier conceived and created 100 brutalist concrete teapots that also reference both the Bauhaus and Robert Mallet-Stevens, and were exhibited in the raw space of the boat during the Parisian design festival, D'Days.

'I have been fond of concrete for a very long time,' says Gautier, whose father was a teacher at a high school in Avignon, replete with mesmerising concrete walls designed by a student of Le Corbusier. His fascination with the material continued during a year in Marseilles in which he rented a duplex in La Cité Radieuse of Corb's Unité d'habitation. 'Concrete is all over this place – the walls, ceiling, floors, tables, seats,' he explains.

Now, Gautier has his sights set on another metaphorically fraught body of water: the concrete-bedded Los Angeles River. After 30 of the artist's teapots make their North American debut this week at the downtown LA design shop Please Do Not Enter, Gautier plans to spend two weeks this winter – followed by two months over the summer – scouting and scouring the oft-maligned waterway for new materials.

'This place is amazingly visual, that's why it's been in so many movies,' says Gautier, who plans to tour the river by bicycle and source objects along the way. He hopes these materials will inspire a new body of work that offer some insight into how the mostly dry waterway, which may one day be revitalised by Frank Gehry, could function in the future. 'I want to produce objects for everyday charged by histories, stories, and simplicity that are directly inspired by my surroundings and landscapes.'

While nobody walks in LA, depending on what Gautier pulls from the city's cinematic concrete channel, biking the river may very well become the new craze for inspiration-seeking artists.
INFORMATION
'Frédérick Gautier' is on view until 15 March. For more information, visit Please Do Not Enter's website
Photography: FCK
ADDRESS
Please Do Not Enter
549 S Olive Street
Los Angeles
CA 90013