Colombian roar: Kram/Weisshaar reinvent Pic&oacute systems at Plusdesign, Milan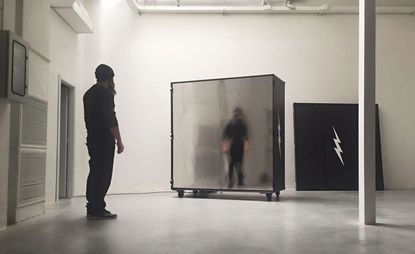 (Image credit: Kram/Weisshaar)
With Salone party season just around the corner, everyone is keeping their eyes peeled for the most innovative disco stimulators around. Cue 'Picó Blitz' by Kram/Weisshaar. Currently installed at Plusdesign Gallery in Milan, the mobile subwoofer sound system doubles as an installation for party players to get interactive with.

Since founding their studio in 2002, US-born Reed Kram and Munich native Clemens Weisshaar have graced the design world with their acoustic and tech-focused installations. Now residing between Munich and Stockholm, they were invited by Luca Martinazzoli and Andrea Caputo of Plusdesign Gallery to reinvent the Colombian Picó sound system. Inspired by the colourful South American culture of these bass-heavy soundsystems, the gallery decided to produce modernised design versions created by Kram/Weisshaar, Boris Tellegen and Dirk Vander Kooij in an exhibition called 'Picó Project'.

'Picó culture is all about the bass' explains Weisshaar. Tapping into the world of coastal Colombian vibes, they married movement with sound, using a sleek reflective sheet on the front of the system. The ultra-thin polyethylene terephthalate mirror is manipulated by the system's pummelling bassweight, vibrating the material and warping its reflective view for an interactive disco experience.

Upgrading the classically vibrant and decorative Picó forms, a sleek party powerhouse on wheels was created. '['Picó Blitz' is] a direct translation of the Colombian into a more technologically advanced system,' Weisshaar continues. The innovative features include a subwoofer bass reflex array composed of four 18-inch 1000W AES Fane Colossus 18XB woofers on a 12000W D-class amplifier with integrated DSP line-in XLR (got that?).

Kram/Weisshaar maintain the design with a simple lighting bolt insignia emblazoned across the sides of the speaker. In contrast, Boris Tellegen and Dirk Vander Kooij took different directions with their models, changing the shape of the Picó and creating more sculpturally abstract speakers.
This article was published on 17 February 2016
INFORMATION
For more information on the 'The Picó Project', visit Kram/Weisshaar's website
ADDRESS
Plusdesign Gallery
Via Ventura 6
20134 Milan