Constance Guisset stages a harmonious duet of apartments in monochrome and colour
Constance Guisset stages a harmonious duet of apartments in monochrome and colour
The bright visual language of industrial designer Constance Guisset has transformed the ground floor of the Swiss Museum of Contemporary Design and Applied Arts (MUDAC) once again. In a bold and somewhat anachronistic move, she has returned the museum's space to its original historic function – that of a private home – whilst making a decidedly progressive ode to colour.
For 'Anima', as the exhibition and accompanying catalogue are called, Guisset has created two almost identical apartments which echo one another; the first in black and white tones, the other in a vivid medley of warm hues. Part retrospective, too, the mirroring rooms are furnished in Guisset's greatest designs. Among them, her 'Vertigo' lamps and 'Pebble' sofa for Petite Friture, her Ankara tables, Angelin lamp and – most recognisable of all – her colour wheel 'Windmills' poufs.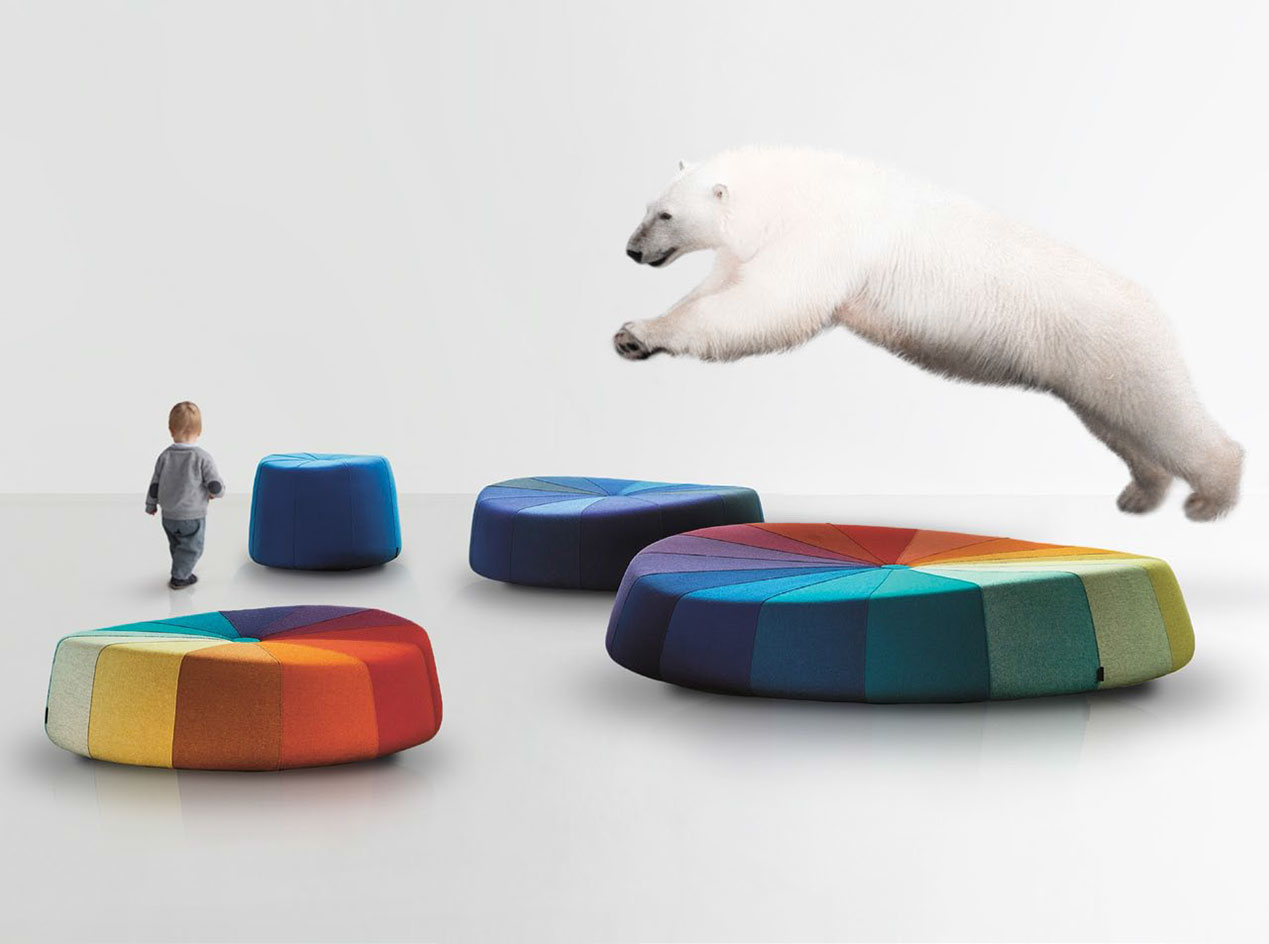 Guisset's pouf collection 'Windmills', pictured, was inspired by chromatic circles; the colour variations and curve of the seat giving the illusion that the poufs are in motion
Beyond the aesthetically pleasing effect of such a theoretically simple juxtaposition, the Parisian designer aims to invite museum goers to sit down and discover new perspectives. To reflect on the properties of a given material, its expressive power, manoeuvrability and functional potential.
Furthermore, it is a whimsical investigation into the expressive potential of cold and warm colour palettes, and their inherent 'genderisation' (where cold shades are seen as 'masculine' and warmer hues as 'feminine'). Guisset's approach rather breaks with convention, showing subtly, but with mischievous glee, the way in which colour, or its absence, can date and animate any given object.
'To dress objects in colour is to give them materiality, sensuality. The sensation of a coloured effect which, taken in by the eye and retransmitted by the brain, invokes intense emotions,' she explains discussing why her prototypes and research always begin in a neutral colour palatte. This, she maintains, is when the 'formal characteristics' of her objects emerge, before being 'disguised' (the Latin word for 'colour' comes from 'celare', which means 'to hide') in chromasticity.
'Guisset has many surprises in store for us,' explains MUDAC curator Susanne Hilpert Stuber, 'with objects hiding into recesses and the partitions of her apartments, like a treasure hunt.'
Information

'Anima: Carte blanche to Constance Guisset' is on view until 15 January 2017. For more information, visit the MUDAC website 

Address

MUDAC
Place de la Cathédrale 6
1005 Lausanne 

View Google Maps

Telephone

41.213 152 530