Getting soft: Calico Wallpaper sets its sights on fabric with new studio offshoot Cope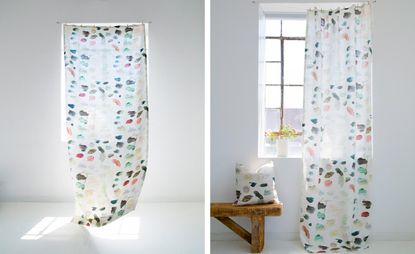 (Image credit: Cope)
It feels like Calico Wallpaper came out of nowhere – it was only in late 2012 that Nick and Rachel Cope had the idea for the custom wallpaper studio. 'It upended our lives,' says Nick. 'Neither of us ever planned on becoming wallpaper designers.' And still, in only four years or so, their haute-technique, serene creations attracted legions of fans, including Amy Lau. Indeed, the famed interior maven sparked an idea the Copes couldn't let go of. 'Amy Lau was the first to say to us very early on, "You guys, trust me, you have to start working on textiles",' says Nick.

Welcome Cope: a new studio venture for the Red Hook-based designers. Don't call it a diffusion line; instead, Cope expands on Calico's patterns, transposing them onto soft goods, starting with plush pillows and wispy drapery fabric. 'We wanted to use our family name to create a legacy by selling more diverse products and maybe products that are more accessible, not just in terms of cost but also in that they would be able to be ordered directly through us over the internet,' says Nick. This month, he's taking on the job of unveiling the new wares at a $17.5 million penthouse inside XOCO 325 Broadway, DDG architects' Soho-located, Art Nouveau-inspired former-chocolate factory residence for the design community who came to town for this year's edition of The Salon Art + Design fair.
'I still have to find the right word for the new brand,' explains Nick. 'We strive for it to be timeless, something that fits into the home really easily and seems more liveable.' Currently, the line includes four distinct patterns: the brushstroked 'Palette'; the sombre fade of 'Aurora' (from the Calico line); the dainty 'Flora' (in four color waves); and the wavy 'Sumi', inspired by water and with which the Copes just recently completed a 100-ft-screen in the soon-to-open remodelled residence The Standish, in Brooklyn Heights.
Nick admits, 'We have established some sort of awareness with our name; not just for Calico but for custom projects around the world.' Turns out it wasn't just Lau – who put Calico into her The Salon Art + Design booth this year at the Park Avenue Armory – clamoring for more of the Copes. 'After many years, and many requests from clients and the design community, we realised it would be interesting to include our vision into the world of soft goods,' explains Nick.
INFORMATION
For more information, visit the Cope website (opens in new tab)