Waste not: Bloomberg proves that one office's trash is a designer's treasure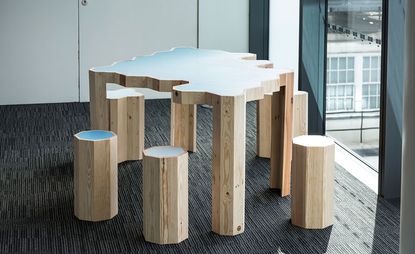 (Image credit: Bloomberg)
Bloomberg has unveiled its fifth series of 'Waste Not Want It', a collection of new works commissioned in association with Arts Co, made almost entirely out of Bloomberg's waste.

This year, participating designers include Astrid Krogh, Laetitia de Allegri and Matteo Fogale, Kim Thomé, Lara Bohinc, Soft Baroque, Stuart Haygarth and Tom Price, creating nine different installations. The pieces, made from all recycled materials, include lighting, decorative wall panels, seating and meeting areas for daily use by Bloomberg's London employees.

The challenge – this year utilising 2000m of cable flex, 152 keyboards, 160 holographic screen sheets, 250 printer cartridges and 33 wood pallets, all discarded – provides a platform for Europe's most dynamic designers. Created in 2010, it also aims to explore innovative ideas about recycling, sustainability and functional design as each designer responds in a different way to the potential and capabilities of the materials. 'The project has provided a platform for 37 artists and designers to redefine our relationship with waste,' says Jemma Read, manager of Bloomberg's UK philanthropy program, 'producing more than 40 functional, innovative commissions for the London office.'

Some of the works featured this year include Re-Connect by design partnership Laetitia de Allegri and Matteo Fogale, who used stripped cables and parts of the wooden pallets to produce a table and seating, and Starboard by Stuart Haygarth, who excavated and illuminated 76 reclaimed keyboard panels with LED lights, transforming them into a galaxy of stars and planets.

The works from 'Waste Not Want It' will be open to the public on 24 September during the London Design Festival, remaining in situ for 18 months.
INFORMATION
'Waste Not Want It' was unveiled on 21 July. It will be on view during London Design Festival (opens in new tab) from 17–25 September. For more information, visit the Bloomberg website (opens in new tab)
Photography courtesy Bloomberg