Happy hours: Bill Denheld puts a bold new face on grandfather clocks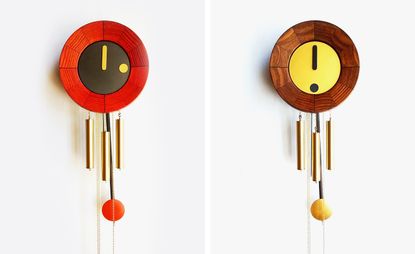 (Image credit: Bill Denheld )
With the surge of digital design, those still creating beautiful pieces using analogue mechanisms are increasingly hidden from the limelight. Bill Denheld is one such designer.

Initially creating concept cars back in 1962, he developed a profound interest in industrial design. After inaugurating his product career with an all-plastic electronic watch, he craved a new, more creative project. In response to the first pocket calculator devised by UK brand Sinclair in 1972, he was inspired to realise a 'no nonsense calculator without those ridiculous tiny buttons'. Here, the Australian designer devised a colourful model with large buttons and a bold typeface (sketch below), a more fun iteration of the traditional pocket calculator.
A sketch of one of Denheld's earlier designs for a pocket calculator

Denheld's design portfolio followed with furniture, graphics and TV set design, all from his Melbourne studio. His most recent feat though, unlike the forward-thinking calculator, jets back in time: the grandfather clock. Denheld has resurrected the engineering in German brand Hermle's clocks that has existed since 1922 and given them a modern look.
The handcrafted clocks are made from Australian woods

'I love the romance of a real ticking clock,' Denheld explains, 'like I remember from my childhood days. A clock that requires no batteries, that will last 25 years.' With this inspiration he utilises different regional woods to handcraft the wall-mounted forms with the same vibrant edge he bought to the calculators in earlier years.

Nodding to the classicism of the grandfather clock, Denheld's contemporary spin is a charming recreation of a complex heritage form.
INFORMATION
For more information, visit the Denheld Industrial Design website (opens in new tab)