Expressive vases available at the WallpaperSTORE*
Our edit of graphic vases is designed for those looking to gift something other than flowers this Valentine's day; from impressive vessels and characterful centrepieces to desktop delights. Fill them with love!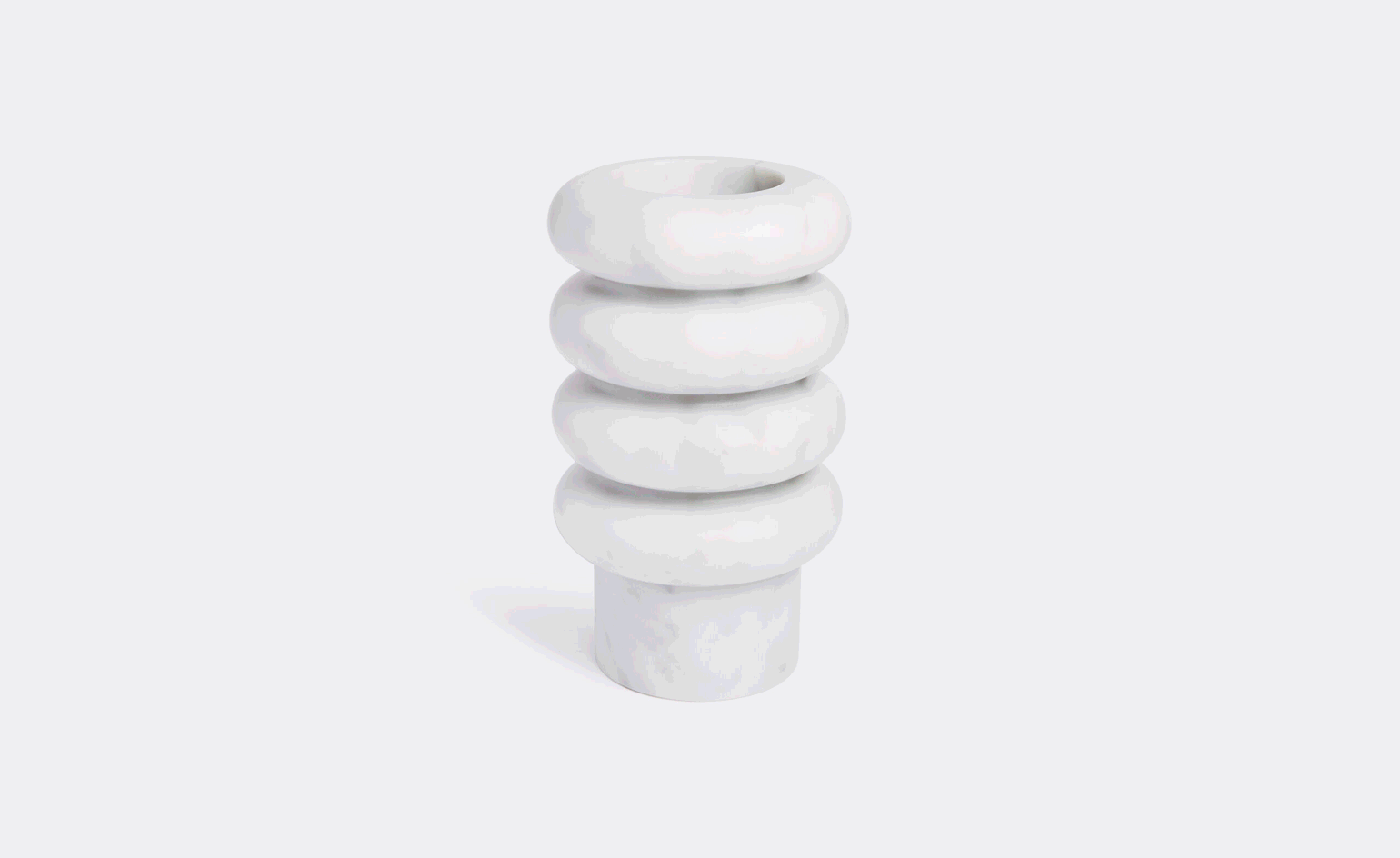 (Image credit: press)
'Folkifunki Duck' vase, Vista Alegre
Playfulness meets functionality in this characterful duo. Created by Portuguese porcelain manufacturer Vista Alegre, the Folkifunki collection was conceived by Spanish artist and designer Jaime Hayon, and is inspired by elements of Portuguese folklore. Each piece of decorative porcelain tableware is painted with a colourful artwork inspired by animals, plants, masks or images.
'Flower' vase, Nuove Forme
A WallpaperSTORE* newcomer, Nuove Forme is a pottery brand that leans on the cultural and artistic legacy of Italian ceramicist Alvino Bagni (1919-2000). As the 1970s-inspired Flowers collection embodies, the brand is defined by a production process that combines both hand-won skills and forward-thinking technicality, with glazing, decoration, cooking and packaging all completed on-site, in-house. Featuring a complex surface design created by hand using liquid wax and coloured glazes, the vase is brought to life by a black patina that has been applied after firing to impart a unique effect that enhances the floral stylisation.
'Ottilie White' vase, Bloc studios
Founded in Italy in 2014, Bloc Studios is known for its work with salvaged marble. For the Ottilie White vase, marble is cut expressively to create a defined series of rolls and voids. The vase can be placed next to other multi-height pieces from the Affinità Elettive series, conceived by Studiopepe, to create a dynamic display.
'Bridge' vase, XLBoom
Antwerp-based XLBloom is dedicated to creating quality objects that will last. Suited to holding a simple duet of stems in its symmetric openings, this minimal vessel designed by Italian designer Mario Alessiani is formed from a sturdy, folded metal tube. Match it with other sized items in the Bridge collection to create a network of arches across your surface.
'Gardenias Vase', BD Barcelona
Take flower arranging into the garden with this terracotta vase from Spanish brand BD Barcelona, suited to the outdoors. Sturdy, weather-proof and full of character, this 0.5 metre tall vase is designed to complement an outdoor furniture collection of the same name.
FURTHER READING
Wallpaper* Arts Editor Harriet Lloyd-Smith provides insight into the most renowned and exciting ceramic artists working globally today.
For an in-depth look at one ceramacist we particularly admire, explore South African artist Zizipho Potswar's studio in Cape Town.
'Fortress Castle' vase, Bohinc Studio
Slovenian designer Lara Bohinc looks to the octagonal towers of Croatia's Diocletian Palace for inspiration for her Fortress vases. Interlocking hexagonal blocks embrace each other in a complex and geometric interpretation of the towers, resulting in an angular shape-play. The ceramic vase is coated in vibrant red, and – along with the three other shapes from the series (the bronze iteration is also of note) – was handcrafted in a small Italian artisanal workshop.
'White Corals' vase, Visionnaire
UK-based ceramics designer Olivia Walker applied the same disciplined approach used in her wider body of work for the Corals vase collection for Visionnaire. Influenced by the irregular layers found on coral, Walker combines individual white Limoges porcelain pieces with brass shards for an object that immediately communicates its reference point as well as its painstaking production process, which includes firing the vase at 1260 degrees Celsius.
'Rips' pot, Poltrona Frau
Fill this textural Poltrona Frau vessel with stems, or leave it be as a standalone object; it has the gravitas for both. Venetian master craftsmen work to form the symmetrical, simple and sculpted edges of the Rips pot, decorated with a rich motif of diagonal lines. Swedish designer Carina Seth Andersson's typically purposeful creation bears her signature at its base.
'Rocchetto' vase, Bitossi Ceramiche
Italian master Ettore Sottsass Jr created this piece for renowned manufacturer Bitossi. Made in Tuscany using the company's time-honoured techniques in ceramic production, the black and white Rocchetto vase bears its designer's signature bold colours, graphic contrasts and geometric shapes.
Elly Parsons is the Digital Editor of Wallpaper*, where she oversees Wallpaper.com and its social platforms. She has been with the brand since 2015 in various roles, spending time as digital writer – specialising in art, technology and contemporary culture – and as deputy digital editor. She was shortlisted for a PPA Award in 2017, has written extensively for many publications, and has contributed to three books. She is a guest lecturer in digital journalism at Goldsmiths University, London, where she also holds a masters degree in creative writing. Now, her main areas of expertise include content strategy, audience engagement, and social media.