David Adjaye's African American museum wins at Beazley Design Awards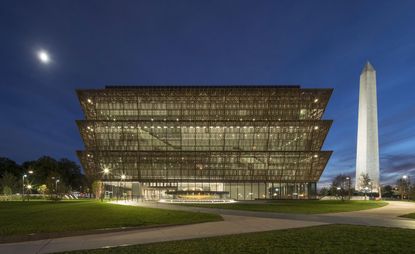 (Image credit: Adjaye Associates)
Sir David Adjaye's African American museum scooped the biggest prize at the Beazley Design Awards, winning both the overall Design of the Year and crowned this year's architecture category victor. It's the tenth year of the Design Museum's Beazley Designs of the Year and the second year the awards ceremony was held in the museum's new South Kensington home. Unfortunately Adjaye was unable to attend the ceremony, but he left a humbling video of acceptable, thanking those who contributed to the project.

A multi-category prize for design that 'promotes or delivers change, enables access, extends design practice or captures the spirit of the year' the Beazley Design Awards has a wide remit, but this is handily distilled into six clear-cut categories: architecture, digital, fashion, graphics, product and transport. This year's esteemed panel includes David Rowan (chair of the jury and editor-at-large of Wired UK); fashion designer Ozwald Boateng; Marcus Engman (design manager of IKEA Range and Supply); typesetter and designer Margaret Calvert; AL_A principal/founder Amanda Levete; Professor Gerry McGovern (chief design officer at JLR); and Michael Tchao (VP product marketing at Apple).

As ever, this year's recipients have touched on themes of politics, social and physical mobility, race and future-proof design processes. Take the digital category, which a host of designers and engineers from US furniture-maker Steelcase and the MIT Self-Assembly Lab (in collaboration with Swiss product designer Christophe Guberan) won for 'Rapid Liquid Printing'. Ostensibly a new-fangled 3D printing technique, RLP uses gel suspension to create large-scale custom projects; circumventing the limitations of regular 3D-printing (those being speed and size) to create furniture-scale pieces from industrial grade materials in moments.

'Fractured Lands' – the winner of this year's graphics category – is a single, 42,000-word longform piece on the fracturing of the Arab world (from the invasion of Iraq in 2003 to the contemporary existence of ISIS and the subsequent drift of refugees from the region), that appeared in The New York Times Magazine last August. Written by Scott Anderson and shot by Paolo Pellegrin (though the design is credited to Jake Silverstein, Gail Bichler and Matt Willey, the NYTM's editor-in-chief, design director and art director, respectively), the piece eschews the visual histrionics increasingly common to digital longform, instead embellishing the extensive text with an austere aesthetic fitting of the subject.
Bird's-eye view of Smithsonian National Museum of African American History and Culture by Adjaye Associates in Washington DC, the architecture and overall winner
Less sombre is Graviky Labs' AIR-INK: the first commercially available pigments and inks made from air pollution, and the winner of the product category. The fashion category, meanwhile, has been won by a team at Nike for its single-layer, high performance Pro Hijab – a potential game changer for Muslim sportspeople (and inspired by Sarah Attar's appearance for Saudi Arabia at the 2012 Olympics).

A group of designers from the Swiss Federal Institute for Technology took the transport award for Scewo. A stairclimbing wheelchair that will allow its differently abled users to reach hitherto inaccessible locations – by way of retractable rubber tracks – it also features a set of ancillary wheels that can raise the chair up to standing eye height, for more level engagement (literally and figuratively).

But the main accolade – the overall Design of the Year and this year's architecture category victor – goes to Adjaye Associates, The Freelon Group, Davis Brody Ben and SmithGroupJJR for the Smithsonian National Museum of African American History and Culture. Located in Washington, DC, Sir David Adjaye's 310,000-sq-ft instant-classic houses galleries, theatres, admin spaces and collection storage, as well as directly referencing African American history through its filigree cladding. Inaugurated by President Obama in September 2016, the Design Museum describes the museum as a 'long-awaited symbol for the African American contribution to the nation's history and identity'.

'Not only is this a striking and already iconic structure at the heart of America's capital, but it's the realisation of an entire century of planning, rejection, political opposition and finally collaborative execution,' says judge David Rowan of the decision. 'But the building… is also a powerful reminder that design enables a diverse conversation and can challenge the dominant political discourse. We felt that, in the context of today's strident American debate on race and identity, Adjaye's achievement represented optimism.' It's a more than worthy winner.

'Some day,' the Design Museum add, somewhat more sassily, 'the other museums will be showing this stuff.'
Sir David Adjaye, who couldn't be present at the award ceremony at the Design Museum, left this video message. Produced by Red Bee
Information
The shortlisted Beazley Designs of the Year are on view until 28 January 2018. For more information, visit the Design Museum website (opens in new tab)
Address
Design Museum
224-238 Kensington High Street
London W8 6AG
VIEW GOOGLE MAPS (opens in new tab)