The long game: B&B Italia's Giorgio Busnelli dreams big for the future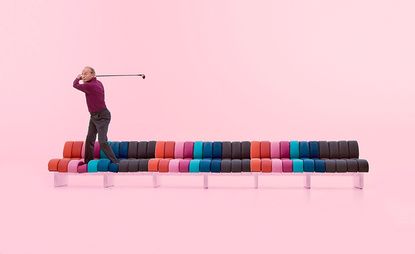 (Image credit: press)
It's a hot day at B&B Italia's headquarters in Novedrate, north of Milan, and Giorgio Busnelli is taking aim with his driver at the large foam ball attached to Gaetano Pesce's 'Up' chair. 'My wife used to say my three priorities in life were firstly B&B Italia, secondly golf and thirdly her,' he later says. His company is celebrating its 50th anniversary this year and Busnelli is in a playful mood.

It is not hard to see why. Giorgio Busnelli is the son of Piero Ambrogio Busnelli, who founded B&B Italia in 1966, and followed his father to take the helm of the business. And while home furnishings might be the recognisable output of the company, what B&B Italia represents is rather more than sofas. To chart the history of the company is to chart a history through modern manufacturing and culture; its list of notable innovations and achievements across the last five decades is mind-boggling. That B&B Italia today is not just still around, but still considered a pioneer – and not just in the Italian market, but globally – is certainly something to be celebrated.
The story goes that in the early 1960s, Piero Busnelli, then a young armchair manufacturer, was in London and happened upon a rubber duck factory (as you do). His attention was drawn to the cold-pressed polyurethane, or more specifically to the moulds that this liquid was injected into, which then solidified and minutes later emerged whole in perfect duck-form. Back in the manufacturing heartlands of north-east Italy, furniture-making was still a traditional handcrafted skill using wood and padding. Sofas were constructed beautifully but slowly. Busnelli spotted the opportunity to industrialise this labour- and time-intensive process. If a wooden frame could be replaced with an iron one, then inserted into a furniture-shaped mould, injected with foam and left to set, then sofas could be made in 30 minutes not 30 days. B&B Italia's process today is still almost identical.

Speed and efficiency were only part of Busnelli's vision. Relationships were critical too and he quickly became a patron of the great designers of the region, challenging and enabling them to design furniture that responded to modernity. It began with Afra and Tobia Scarpa's 'Coronado' lounge chair in 1966, which required just two screws to assemble. Gaetano Pesce's 'Up' lounge chair, without any frame at all, was sold in flat vacuum-packed slices, to inflate on opening right in front of the customer's eyes. Mario Bellini's 'Le Bambole' in 1972 was a sofa that embodied the louche lounging of the decade, resembling an oversized pillow. It was awarded the Compasso d'Oro, the Italian accolade that recognises progress and quality in industrial design – the first of four that the company would later rack up.

But Piero Ambrogio Busnelli's legacy was more than the sum of the designs he manufactured. He turned furniture into culture. He transformed his manufacturing capability into a lifestyle brand. Those are words that today sound hollow. Yet consider that in the 1970s, he hired a cruise ship for four successive years, stripped out the furniture to replace it with his own, and then hosted 500 colleagues, customers and friends for a three-day retreat. Busnelli believed in a world where furniture was connected to people and to life, and he saw it as his responsibility to join the dots.

Parties in kaftans with cocktails on boats make for a powerful statement of intent: you don't just buy my sofas to sit on, you buy the culture that surrounds them too. In this spirit, he commissioned Renzo Piano and Richard Rogers in 1971 to design his new headquarters in Novedrate. B&B Italia was the first furniture company to advertise on television. He commissioned Oliviero Toscani for the campaign to launch 'Le Bambole', which featured a topless Donna Jordan with heeled legs in the air (the prudish powers that be at that year's Salone insisted black tape cover her breasts).

The spirited Busnelli was far cannier than the boats and breasts playboy you might mistake him for. Relationships, culture and communication were matched by a forward-thinking financial reinvestment of profit into R&D. Foam might have revolutionised the sector, but he understood that continued innovation would be critical to staying relevant and ahead of the industry, then expanding beyond Italy or even Europe, and quickly becoming global. Today, more than three per cent of annual sales are reinvested and the R&D department employs around 25 specialists.

Cut to the present, and Piero's son Giorgio, who has put away his golf club, is sitting in a conference room sipping espresso. The furniture industry is very different now and Italy's role within it has waned. The relationships that powered the manufacturers in the latter part of the 20th century have been turned on their heads in the last decade with designers emerging as brands, producers and even retailers in their own right. Is B&B Italia at 50 looking to the future or is it resting on the laurels of its former glory days?

You can tell a lot about the health of a company from the state of its offices. Here in Novedrate, the windows are gleaming. Staff are smartly dressed and clearly busy. Giorgio brings to mind the beautiful Italian word 'disinvoltura' – relaxed precision. In casual conversation he deftly covers a succession of topics: Brexit; his memories of buying chicken and chips while studying English in London; his love for Herzog & de Meuron's architecture; and the acute differences in the New York and London skylines. There is a quiet fierceness to him too, which recalls the portraits of his leonine father. These are all qualities that have surely served him well in making one of the most difficult decisions in the history of his family and B&B Italia.

'I'm 64 and this company is my life,' he says. 'I spent 40 years working with Daddy and today my son [Massimiliano Busnelli] works in the R&D department and wants to stay there. I have asked myself how can I save B&B Italia, how can I keep it great and move it forward? I've seen so many companies who keep things locked in the family descend into infighting and stagnation.' Busnelli's answer came in the form of an offer from Investindustrial, a private equity fund headed by financier Andrea Bonomi, which specialises in medium-sized Italian and Spanish manufacturers.

Bonomi counts another great Italian family manufacturer, Flos, as one of his current success stories. 'I spoke to Piero Gandini [CEO and son of Sergio Gandini, the founder of Flos] and the experience sounded positive,' Busnelli says earnestly. 'We had our fingers burnt by an investment sale previously, and fought through dark times to buy their share back into the family. I needed to know this would be different.' Fears reassured, the acquisition was announced last year. Busnelli has remained B&B Italia's CEO and a partner, with a 20 per cent stake in the firm.

It would be easy to feel nostalgic at this point. But Busnelli is buoyant, and it's not just a brave face for the camera. 'My responsibility is and always will be to this company,' he asserts. 'I am interviewing for a managing director role and once I've found the correct person with the right amount of initiative and soul, I will then spend four years downloading all my knowledge to them, so I can go back to the R&D department where I started back in the 1970s.' He later discloses that he's seen 14 candidates so far, an indication of how big the boots that require filling must be.
Investindustrial has plans to grow the brand by acquiring like-minded Italian furniture companies (announcement of the first acquisition is due this autumn), then to build the business in emerging markets. Busnelli is a key part of these developments and speaks openly of the difficulties that small- to medium-sized manufacturers face when it comes to growth: 'If we aren't able to adapt and change with the times, then we suffer. As Italian manufacturers, we are stronger together in a globalised market, where we face competition from so many angles.' And opportunity abounds – B&B Italia's Swiss market is currently bigger than its Chinese one, but it is opening a dedicated B&B Italia China office before the end of the year.

Given these big plans and high hopes, it feels churlish to quiz him on how he will ensure the culture his father inspired will remain undiluted. But he is quick to point to the 50th anniversary as a year of celebrating the stories of B&B Italia by way of reinvigorating what the brand stands for beyond its 1,200-strong catalogue of design projects. It has made a film, a doorstep of a book, put on a forensic exhibition at the Triennale in Milan, and is hosting a series of dinners in the many cities where it is known and loved. 'It's like my father's cruises,' he says. 'We are bringing our world to the people who we love and work with. We are a quality, serious brand with a very strong ethic. We have consistently innovated for 50 years with effort, determination and without compromise.'

The most heart-warming sign that it's still business as usual at B&B Italia is in Busnelli's clear optimism for the future. At the start of our time together I wondered if the golf club stunt was a metaphor for freedom from the ball and chain that a heritage family firm could bring with it. After hours in his company, it's clear his ties are stronger than ever – he's just excited there may be a little more time to play golf, with real golf balls.

As originally featured in the October 2016 issue of Wallpaper* (W*211)
INFORMATION
For more information, visit the B&B Italia website
Receive our daily digest of inspiration, escapism and design stories from around the world direct to your inbox