Shared storey: an interior designer and a gallerist work wonders in a West Chelsea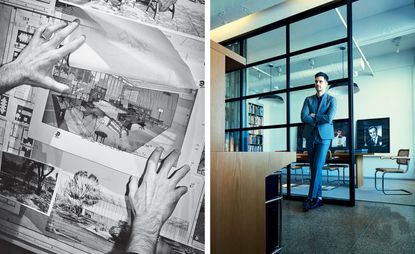 (Image credit: François Dischinger)
The walls of interior designer Andre Mellone's West Chelsea studio resemble an impeccably curated Instagram feed come to life. Assembled in a floor-to ceiling grid are vintage Richard Avedon fashion ads, Jacques Tati film stills and images of lesser-known buildings by Robert Mallet-Stevens and Le Corbusier.

Brazilian-born Mellone, unlike many other designers and architects, is not afraid to declare his influences. 'It's very important that everything I am working on is up on the wall,' he says. 'I'll never understand pristine offices with nothing on the walls and not a thing out of place. As you can see, I like to draw from many different worlds, from modernism to art deco, film and fashion.'

The son of Brazilian industrial designer Oswaldo Mellone, who worked with many of the country's leading architects, including Sérgio Rodrigues, Mellone grew up surrounded by modernist design. 'I'm probably a minimalist at heart,' he confesses. Nevertheless, while Brazil's sensual minimalism clearly remains an important reference point, Mellone's aesthetic has been influenced by two decades in New York, where he has worked for architecture firms such as Robert AM Stern, Mark Hampton and Sawyer | Berson.

In the five years since its founding, Studio Mellone has attracted an enviable client register that features fashion brands, residential clients in London, Brazil and California, and an in-the-know artistic vanguard that includes creative director and fellow Brazilian Giovanni Bianco. Fashion designer Thom Browne, who was attracted by Mellone's exceptional hand-drawn renderings, asked him to create retail interiors in cities including Seoul, Hong Kong, New York and Osaka. Another regular fashion client, Jason Wu, tapped Mellone to conceive a glamorous space within Saks Fifth Avenue, as well as design his Tribeca apartment. Next up: the interiors of a 1,000 sq m family residence by Andrade Morettin architects in São Paulo, lighting and product design for Studio Mellone, and as yet-to-be-announced fashion collaborations. 'For me, design is a pure thing. I believe if you can do one thing, you can do anything, or at least try,' Mellone says.

The designer's eyrie-like space, which overlooks the High Line and the Hudson River, is also shared by his partner, art dealer and gallerist André Viana (they are collectively known as the Andres). 'It was the classic New York real estate story,' Mellone says. 'André was thinking of opening a gallery space and I needed more room; we discovered two adjoining spaces in a converted open-plan warehouse. Within two weeks we had signed the deal and began planning the layout.'

To create the hybrid space, the duo maintained many of the building's original elements and drafted a blueprint that included a gallery, offices, communal work area, and a conference room and library. 'We loved the idea of a shared reception area that would divide the spaces,' explains Mellone, who demarcated the work areas with a glass wall and sheer curtains to maximise natural light. Industrial barn lights, USM shelving and Marcel Breuer-designed 'Cesca' chairs complete a scene of comfortable midcentury-meets- International Style chic.
For Portuguese native Viana, who has worked for Gagosian, Phillips and Yvon Lambert, avoiding the clichéd white-box gallery format was critical. 'We both love wood and I thought having oak door surrounds, which continue throughout the space, would bring warmth and consistency,' says Viana. 'I imagined it as less of a gallery and more of an exhibit hall; a private space for me and my clients, which we can open to the public when shows are on.'

Three interconnected rooms, the largest of which is a long rectangular north-facing space, serve as a backdrop for large-scale works, video and performance art. Recent exhibitions have been devoted to Swedish artist Klara Lidén, known for her large textural poster paintings; the late American installation and performance artist James Lee Byars; and Turner Prize-winning Scot Douglas Gordon.

In contrast with Viana's elegantly restrained gallery, Mellone's studio seems to hum with activity. His young, multilingual team are preparing for the opening of Clover Grocery in the West Village, the studio's first hospitality project, commissioned by Kyle Hotchkiss Carone (of fashion-world favourite Cafe Clover). 'We were inspired by food businesses of the 1920s and 1930s,' says Mellone, who paired ceramic wall tiles with mahogany, bronze and Bardiglio marble finishes. Thanks to Mellone's unerring eye and penchant for visual cues, the finished effect evokes the marriage of a classical Parisian food hall and a Mies van der Rohe building. 'As always, we did a lot of research and study,' he says. 'The chief inspiration we arrived at was the kitchen of Milan's Villa Necchi Campiglio, which has a certain austerity, but still feels very pure and glamorous in its design.

As originally featured in the June 2017 issue of Wallpaper* (W*219)
INFORMATION
For more information, visit the Studio Mellone website