The letterpress life: Alan Kitching's epic creative past revealed in a new tome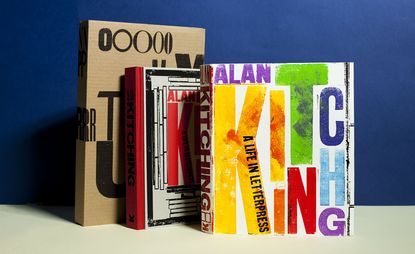 (Image credit: TBC)
Personal and professional binds into one for pioneer and visionary Alan Kitching. His career in letterpress and design is certainly one that has been imprinted on his life, and this admirable creative history has now been wrapped up neatly in a new tome.

Aptly titled Alan Kitching: A life in Letterpress, the chronological and biographical style edition divulges his different stages as an experimenter, teacher, designer and all-round creative. The handsome collector's edition arrives in a recognisably large and vibrant letterpress signed print that coats the cover, while the inside unravels into photographs, original sketches and cut-outs from the last 60 years.

Kitching's life constantly changed with the times, his work aligned with the different 20th-century movements in design and the print revolution. Starting with Christmas cards that he realised as a 14-year-old apprentice, the book travels to his partnership with Omnific as a graphic designer, and then back to letterpress with The Typography Workshop.

Unlike the repertoires of other creative careers, Kitching's story constantly engages with the link between his personal and professional life. Portraits of his working self featured across the book simultaneously move with the development of his works, along with the different areas of England that he has lived in – Watford, Richmond, then finally settling at his South London studio. Meanwhile fragments of his personal relationships are also mentioned, including the significance of meeting his wife Celia Stothard (the book also includes a copy of their printed wedding invitation) showing how there was certainly no gap between who he was as a printer and person.

'I want to buy the press and the type and go and print' was Kitching's brave chant when he left Omnific. This poignant career move allowed him to move with the digital age and develop his iconic, slightly humorous and characteristic lettering that led to memorable commissions for the likes of the Guardian and the Olympics, and his educational contribution at the RCA, dominating his career to this date.

Stopping halfway through the edition is a photographic diary of Kitching at work by Philip Sayer, immersive shots that solidify his incomparable skills. 'Kitching's work lies in a kind of parallel art world,' states the afterword, reiterating his remarkable creative contribution that is complex, changing with the times and totally immersive.

The book coincides with a matching show at Lettering Arts Centre at Snape Maltings that runs until 20 August.
INFORMATION
Alan Kitching: A Life in Letterpress, £200 for collectors edition, by Laurence King. For more information, visit the publisher's website (opens in new tab)
Photography: Michael Ainscough