Romanengo is Milan's new sweet spot
Romanengo, the oldest Italian confectionery, opens its doors in Milan with interiors by Madrid-based architects Cousi Interiorismo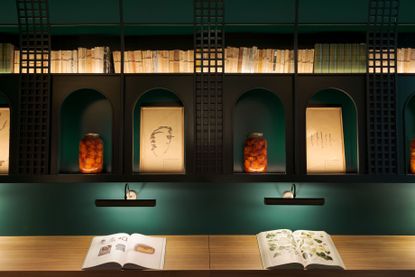 (Image credit: Courtesy Romanengo)
Located in one of the city's characteristic courtyards is an artisan confectioner that's bringing back old-world charm: Romanengo offers a mix of sugar and spice, and plenty of all things nice, in one of the city's oldest districts.
Since it was founded in Genova in 1780, Romanengo has been using fruits and flowers to craft delicious sweets; the essential ingredients must be all-natural and seasonal. Today the team still use a hand-manufacturing process, and the original 18th-century French recipes, to produce small-batch delicacies such as chocolate-covered clementines and mint fondants.
The architects' aim was to find a balance between the classic and modern forms for the three separate spaces: The Spice Bottega, the Shop and the Tea Room. 'This was a very delicate project, because it meant defining the general guidelines for the future of the brand. A new beginning in a new century and a new city, Milan,' explains Alba Hurlé, co-founder at Cousi Interiorismo. 'The first step was to identify the elements that defined Romanengo, a task that involved client collaboration and the original Genova shop. We identified three key points: tradition, nature and hand manufacturing. The purpose of the design was to translate these elements to the interior design, while maintaining a modern approach.'
Inside, bespoke fixtures and fittings pay tribute to the hand-manufacturing ethos. Here, simplified arches and mouldings have been employed to transport you into a refined old world. Tradition and nature meet in the materials of oak, brass and marble. These serve to enhance and complement features such as the rich green tones that make the space feel all-embracing. Nature is also celebrated through the floral elements in the wallpapers and upholstery.
'The selected site for the project also posed some challenges,' explains Cousi Interiorismo co-founder Alicia Martín. 'Since there were three independent spaces separated by a patio and each one had a different use, we had to work to keep the perception of the three spaces as a unique cohesive place, while giving each one a different character.'
The colour scheme and material palette successfully tie the spaces together. Lighting has been used to great effect, enhancing the sense of intimacy, while also highlighting the products in their individual niches.
The space is modest in size, which encourages a more welcoming approach: in the Tea Room, for instance, a central, made-to-measure marble and oak counter, eliminates the traditional boundary between the customer and cashier, making the former feel more at ease.
Romanengo
Via Caminadella 23
Milan
romanengo.com (opens in new tab)