Madrid Design Festival 2023 spotlights the city's diverse creative scene
Highlights from Madrid Design Festival 2023, with exhibitions encompassing furniture, light and craft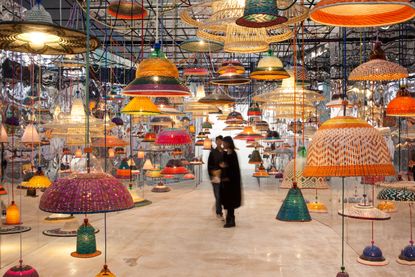 (Image credit: Courtesy Alvaro Catalán de Ocón Studio)
Madrid Design Festival 2023 is based on the theme of 'redesigning the world' (until 9 April 2023). The citywide event features exhibitions, installations and conferences that address the theme of how design can offer solutions to the uncertainties and complexities faced by society today, from healthcare to housing, the climate and better urban living. The festival also spotlights the city's diverse and engaged design scene, and offers reflections on historical design in connection with contemporary makers.
With over 600 creative professionals participating across showrooms, cultural centres, galleries, restaurants and shops, including 50 spaces embraced by the OFF Festival, the city seems to be fully embracing its design potential and ambition. Main exhibitions include Fiesta Design at the Institución Libre de Enseñanza (Institute of Free Education) or ILE, which brings together brands such as Bombay, Ikea and Andreu World with emerging talent; and the subterranean Fernán Gómez Cultural Center, where several large group exhibitions by guest curators are on display. As part of the events, Stefano Boeri, Hella Jongerius and Curro Claret have been honoured with lifetime achievement awards for their distinctive contributions to the field of design and architecture.
madriddesignfestival.com (opens in new tab)
MADRID DESIGN FESTIVAL 2023: THE WALLPAPER* HIGHLIGHTS
---
Madre Natura – Mother Nature
Curated by Teresa Herrero, 'Madre Natura' (Mother Nature), is a comprehensive exhibition that addresses the festival's theme of design as a tool for change, looking specifically at materials and processes. Based around the four elements: water, air, earth and fire, it brings together work by 30 emerging and established artists working in the fields of craft and design, who are proposing new ideas and alternatives to traditional objects. Presented at the Féran Gómez Cultural Center, 'Madre Natura' is meant to connect with the viewer in an emotional way, giving insight not only into new ways of designing and making work, but how our individual choices can make a difference.
Justino del Casar's vertebral vessels are made of paper that once held personal information, such as old philosophy exams, bank statements or lottery tickets, with the idea of giving a new life to these histories. 'Pure Plants', designed by Carmelo Zappulla in collaboration with Aldo Sollazzo, are 3D-printed cactus plants that use Pure Tech, a material that absorbs CO2 from the air. Icaro Maiterena's compressed ceramics are 'sculpted', often in a performative way, by throwing the clay on the floor repeatedly or moving his body within it. And UK-born, Spanish-based artist Barbara Long's stitched and lumpy installation that uses hand-sewn scraps of fabric reflects on different stages of life and how we are always constructing our future in the present.
Modernist Pottery in Madrid: Ceramics and Design in the Mid-20th Century
Also at the Féran Gómez Cultural Center, this unique exhibition seeks to bring recognition to Madrid's place in the history of modernist design and ceramics. Despite the harshness of Franco's regime in Spain during the 1950s to 1970s, artists and designers continued to make work in the country, but it was never, or very rarely, seen outside of their studios. Organised by Pedro Feduchi, a grandson of a potter from the era, and Pedro Reula, a design gallerist, the show sheds light on some of these forgotten artists and their intimate community. As few official archives of the era ever existed, the curators went to artists' family members and friends to learn more about them and sorted through old boxes stored in basements to dig out pots, mosaics, objects, photographs and letters, and so piece history back together.
It was only in 1958 that an official organisation was established to support Spanish industrial design, which eventually led to an exhibition at the 1964 World's Fair in New York, one of the first official presentations of Madrid's modernist artists and designers.
Sevilla: Illuminated Shadows
Sevilla was the guest city invited to exhibit during the festival. Curated by Macarena Navarro-Reverter, with a dramatic installation design by Studio Noju that plays on the city's intense sunlight and dark shadows, the exhibition at the Féran Gómez Cultural Center pairs traditional craftsmanship with contemporary design as a way to fuse the past with the present. Sevilla has a long history with very specific craftsmanship linked to elaborate religious rituals, such as the Easter week holiday, but it is also known for its traditions around bullfighting. There are centuries-old workshops specialised in materials such as golden embroidery, hat making, enamel and metalwork. Contemporary designers were invited to collaborate with craftsman to propose a new interpretation of materials or methods. Highlights include a striking installation of traditional Sevillian hats designed by Férnandez y Roche as well as the installation by Las Ánimas studio that subverts traditional sacred objects through materials and colours.
Alvaro Catalán de Ocon Studio
Alvaro Catalán de Ocon, who is celebrating ten years since the launch of his 'PET Lamps' project with an exhibition at El Matadero Cultural Centre in Madrid, opens his studio to the public during Madrid Design Festival. A four-floor building in the neighbourhood of Carabanchel, the studio opens a window into Catalán de Ocon's process and offers a chance to see a selection of his work, including the new 'Plastic Rivers' carpet with GAN that is woven with recycled PET bottles and the 'Ceramics Cu' collection.
Natural Connections by AHEC at El Matadero
AHEC, which is supporting the Slow Design exhibition at the Féran Gómez Cultural Centre, also invited four designers to create a new piece of furniture that reflected on communal spaces and the natural world, using three types of wood: cherry, maple and red oak. Presenting their work at El Matadero, a former slaughterhouse-turned-cultural centre, each of the designers embraced the possibility for experimentation and new designs. Jorge Penadés sought to push the versatility of the medium through 'Wrap', a large modular communal table and shelving unit made with thin, lightweight wooden tubes that can be constructed in different ways. The possibilities for multiple installations plus the environmental aspect of less weight for shipping are intriguing.
Inma Bermudez and Moritz Krefter designed five benches, titled 'La Manada Perdida' (The Lost Herd), that are designed as places not only sit, but to talk and connect. The shapes call to mind cows or horses, as well as jungle gym equipment, but they also take inspiration from sawing benches. Hooks and handles invite handbags and coats, while children immediately want to play on them. Alvaro Catalán de Ocon developed a large hanging lamp titled 'Nube' (Cloud), using small, interconnected wooden cylinders that are linked together with wire. Pulled like a macramé skin that appears to almost float in the air, the fixture is like a 'game of craft', says the designer.
Mujeres que no son Florero
This intimate exhibition features ceramic vessels made by 14 female creatives, each with a bouquet of flowers specifically designed for the vase. It was conceived by ceramicist Adriana Cabello, in collaboration with Inma Bermudez, and first presented as part of the Valencia World Capital of Design 2022 events. The title of the exhibition is a play on words in Spanish about women being looked at as trophies rather than for their work, and the show is meant to highlight the relationship between ceramics and design and women's strong presence in both fields.
For the Madrid Design Festival, the vases were installed in an apartment designed by Quam Architects, that is tucked off a main street in the city centre. Several Madrid-based designers were invited to participate and they collaborated with a local school of flower arranging. Gorgeous, sculptural installations, with vases that span bulbous forms and modern geometric shapes, feature stylish bouquets that work in perfect in harmony with the vessel. A highlight in the show was a vase by Inma Carpena that was broken in transit but was somehow reborn as one of the more poetic sculptural vessels on display.
Kauani Lamps
Part of the rising talents exhibition from Maison & Objet, now installed in connection with the Fiesta Design programme of MDF, the 'Kauani' lamps are a collection of 3D-knitted wireless lanterns created by Tornasol Studio's co-founder Inés Llasera, and Mexican textile designer Inés Quezada. 'Kauani', which means 'to flourish' in Nahuatl, consists of three different lamps that emulate different elements of native Mexican flora, such as cactus, agave and corn as well as the colours of cacao and chilli peppers. The lamps are produced with a knitwear mill in Catalonia's countryside. Their simple form and bright colours and patterns combine for a tactile and eye-catching object.
Blaire Dessent is a freelance writer, editor and copywriter specialising in contemporary design, craft, art and travel. She works as the managing editor for TL magazine, a biannual, French/English art and design publication. In 2020 she was an editor and contributor to Imaginings by Kiki van Eijk, published by nai010. She is also the co-owner of The Alameda Shop, a creative lifestyle shop in Mallorca that works with contemporary artists and makers.