Revisiting Spanish modernism and more at Madrid Design Festival 2019
The second edition of the fair offered installations and exhibitions spanning the city from Fernán Gómez Villa Cultural Centre to Museo Cerralbo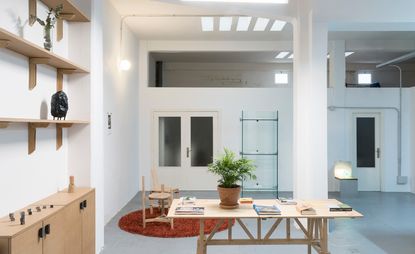 (Image credit: Photography: Iñaki Domingo)
A month-long celebration of creativity has just come to an end in the Spanish capital. In its second edition, the young and ambitious Madrid Design Festival (1-28 February) adorned the city with exhibitions, installations and activities.

The fair kicked off with a revision of Spanish modernity, 'Darro: Design & Art (1959–1979)', which was held at Fernán Gómez Villa Cultural Centre and told the story of its founder Paco Muñoz. The modern movement's quest to produce inexpensive but well-designed living spaces in Spain during the 1920s was curtailed when the Francisco Franco dictatorship plunged the country into isolation. In the 1950-60s, Muñoz's studio, Darro, reignited the concept and for two decades, in collaboration with major architects and artists such as Javier Carvajal, Miguel Fisac and Equipo 5, producing some of the most renowned works of Spanish modernity.
A selection of work exhibited at Extraperlo. From left to right: 'Hypothesis 281' by London-based Spanish designer Tomas Alonso; 'List of Operable Coordinates for Two Drones to Kill Each Other in Symmetry' by British artist, writer and film-maker Ilona Gaynor; 'Lufa' Torch by Mexican designer Feranado Laposse; a linocut print by Anna Ruiz of Jorge Penadés and Italian journalist and curator Maria Cristina Didero; Lampara Para Jorge Penadés by Spanish fashion photographer Nacho Alegre; 'Cocoon' Wardrobe by French artist Marlene Huissoud; 'Books Without Content' by Czech creative collective Okolo
Also at the centre was another flagship exhibition titled 'Cuidado Diseño.' The showcase explored contemporary Spanish crafts with projects initiated by the new generation, but executed with century-old traditions. Work by local designers included 'FIlamento' by Mayice Studio, a sculptural ceiling light made of a single piece of glass that measures more than one metre long and a Dekton clay table by Studio Apparatu, which explored innovative materials in collaboration with Spanish manufacturer Cosentino.
The fruits of a year-long collaboration between Finsa, an Iberian Peninsula-based MDF producer, and the Dutch collective Envisions was another example of material experimentation. For 'Wood in Progress,' six designers, including Simone Post, Roos Gomperts and Elvis Wesley, produced six prototypes by reinventing production processes and injecting a sense of curiosity and playfulness.
Elsewhere, Barcelonian Guillermo Santomà, whose works are often classified as collectibles, extended his destructive yet poetic design language to the 19th-century opulent baroque setting of Museo Cerralbo. Here, he established a peculiar dialogue between his 12 new pieces – including a dissolving coach made of soft foam and purple resin – and the museum's permanent collection.

Outside of the festival's route were two unmissable exhibitions by Madrilenian names to watch. Alvaro Catalán de Ocon opened the doors to his new studio space in emerging creative district Carabanchel with a showcase of a new edition of his acclaimed 'PET' Lamp, a glimpse into the new collection 'Ceramica Cu' (which will be presented at the upcoming Salone del Mobile) and a pop-up store with Galleria Rossana Orlandi, which presented beautiful objects by fellow Spanish studios Andrea Santamarina and Moneo Brock.
Designer Jorge Penadés stepped into curator shoes for his show 'Extraperlo' which he created to expand the boundaries of design via a roll call of international authors with diverse profiles. In its first presentation at his work/live space in the Puerta del Ángel neighbourhood, locals such as Tomás Alonso, Cristian Zuzunaga, Julen Ussía, plus British designer James Shaw, American studio Chen Chen & Kai Williams, and Korean artist Kwangho Lee contributed freshly created objects.

Penadés also teased us with his new 'Piscis' collection for furniture brand BD Barcelona: six limited-edition vases created with extruded aluminium profiles from an old lamp in the company's catalogue from the 1990s, which are also to be launched at Milan Design Week next month
INFORMATION
For more information, visit the Madrid Design Festival website (opens in new tab)