Jacques' wellness-promoting objects by Vincent Van Duysen explore functionality in mindfulness
Vincent Van Duysen and Jacques' founder Gregg Cohenca present a collection of versatile objects and furniture that encourage tranquillity and mindfulness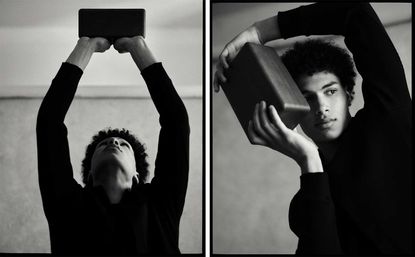 (Image credit: Rich Stapleton)
Can the objects we surround ourselves with really have a positive effect on our wellbeing? Vincent Van Duysen and Gregg Cohenca, founder of the elevated activewear brand Jacques, believe they can, and have gone so far as to design a collection of wellness-promoting furniture and tools precisely with that goal in mind.
The two designers met at Van Duysen's home in Antwerp and discovered a synergy with their approach to minimal, functional, long-lasting design that nurtures a certain serenity. 'During the visit, we connected deeply on the topic of mindfulness and his introspection of self through transcendental meditation,' says Cohenca.
The duo discussed the idea of creating a 'transcendental space that inspires you to do your inner work', says Cohenca, but ultimately evolved the idea into creating a collection of instruments that live within this space instead. 'Growing up with my aunt, Nevine Michaan, founder of Katonah Yoga, I was exposed to this field of products at an early age. Blocks and sandbags were always propped around my house, so in many of my conversations with Vincent, [we were] focused on the functional aspect of the design,' says Cohenca.
This is the first time Van Duysen has consciously designed wellness-promoting items, although he acknowledges he has 'come very close to designing such products because some of my designs can be very soothing and calming'.
Even though mindful movement was central to these objects, the design process didn't much differ: 'My approach and modus operandi are always the same whether I design a product, a building, or an interior. However, in this case I wanted to create monolithic objects characterised by pure shapes able to instil a sense of serenity and tranquillity into the user. Like in everything that I do, I always select organic and natural materials, wood in this case, which I find an outstanding element thanks to its veins, warmth, texture,' he says, referring to the natural oak and untreated linen used in the designs.
The role of every item was deeply considered along with its ability to improve longevity and encourage tranquillity. The often versatile objects include a meditation chair designed to slow the breath and align posture; a ceremonial side table; a rounded block to support back, head and hips; a natural linen sandbag used for opening joints and deepening poses; an Italian wool- and silk-blend Savasana blanket; and a lightweight, tapered bō stick to encourage flexibility and blood flow.
Available at jacquesnyc.com and The Shop, 50 Bond Street, New York
Tilly is a British writer, editor and digital consultant based in New York, covering luxury fashion, jewellery, design, culture, art, travel, wellness and more. An alumna of Central Saint Martins, she is Contributing Editor for Wallpaper* and has interviewed a cross section of design legends including Sir David Adjaye, Samuel Ross, Pamela Shamshiri and Piet Oudolf for the magazine.