Inside Ryan Murphy's Halston-inspired Hollywood HQ
Ryan Murphy, the prolific film and TV producer, has created a home for his extensive offices in Hollywood, with the help of designer Jeremiah Brent. He takes us on a tour…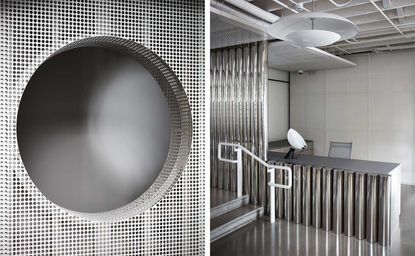 (Image credit: Photography Stephen Kent Johnson. Art direction Michael Reynolds )
Tucked away on a Hollywood street lined with historic old movie stages, the prolific film and TV producer Ryan Murphy – who recently featured in our Wallpaper* USA 300 guide to creative America – has quietly created a home for his extensive offices. An intentional canvas of calming neutrals that promote clarity and let creativity bubble to the fore, the interiors – for which Murphy enlisted the help of designer Jeremiah Brent to realise his vision – also took inspiration from the futuristic film set of the Netflix mini-series, Halston, on which Murphy acted as executive producer. He takes us on a tour inside…
Ryan Murphy on his Halston-inspired HQ
Jeremiah Brent was always the coolest dad at nursery drop-off. I have a vision of him, picking up his daughter Poppy while my son Ford looked on balefully. So well dressed, so collected, almost always in white or beige or black in fantastic drapey fabrics. He was 'quiet luxury' incarnated before that term became a pop culture phrase.
It was this quality that made me instantly think of hiring him when it came to doing a new office compound for me and my 50-strong employees. Previously, I had done my office on the Fox Studio lot in a sort of Californian earthy aesthetic – all tobacco silk rugs, industrial tables and odd art mixed with vintage Nakashima lamps and artefacts. But this time around, I wanted something new and modern.
When I first showed Jeremiah around the warren of weird little rooms crammed with Silicon Valley twentysomethings eating pad Thai, I think he was shocked. ('I was a little freaked out,' says Brent. 'It was such a big job, and a great but crazy concept.') I told him I wanted two things, for it to be quiet, but to hum. I also gave him a clear directive to work towards – the mood was to be Halston in space. I wanted everything white and light, almost like being in a spaceship, with a downstairs area reserved for editors, a huge conference room for writers, and a café.
After gutting the space, the first thing Brent did was to create movement, passages to other environments, all done with a goal of grounding and calming down the previously chaotic space. One of the best things that he did was to create perforated arcs, shutters and walls, inspired by the work of the renowned Hungarian-French designer Mathieu Matégot. 'If we had a wall that seemed like a blockage, we perforated it,' says Brent wryly.
One other important 'rule' of the project was an exactingly curated group of colours and materials. Suede, marble and plaster were used throughout; if it could be plastered, it was. Bright primary colours were banished in place of hues that could lower your blood pressure: whites, creams and greys. And if it couldn't be one of those colours, we used a metal in that shade. Chrome, for example. Lots of chrome.
'The end result was very much influenced by design of the 1930s and also the 1970s,' says Brent of the office design. 'Curved walls, cashmere drapery everywhere covering video monitors. Some people might say that was weird, but I looked at it all as a challenge.'
Almost everything in the office was bespoke, right down to the individual vintage subway titles that took three months to find and polish. My favourite area is the conference room, which sports a handmade poured concrete table that seats more than 15 people. There is no colour in this room, no distraction from creativity.
Jeremiah's favourite room is my office, with its lacquered dropped ceiling, fireplace and Jean Prouvé-inspired windows. 'What I loved about this office is how it set up areas of freedom,' says Brent. 'There were areas you could be on your own, creating, and there were areas where you could participate.'
Two years after we first toured the space together – and a construction period that lasted all through the Covid pandemic – Brent delivered just what I wanted. 'Creating a space for so many people to create in was humbling,' says Brent. 'It was one of the hardest jobs that I ever had, but ultimately, one of the most rewarding.'
A version of this article appears in the November 2023 issue of Wallpaper*, available in print from 5 October, on the Wallpaper* app on Apple iOS, and to subscribers of Apple News +. Subscribe to Wallpaper* today
Receive our daily digest of inspiration, escapism and design stories from around the world direct to your inbox
TV writer, director and producer Ryan Murphy is the founder of Ryan Murphy Productions, with credits including Nip/Tuck, Glee, Pose, and Halston. On winning a 2023 Golden Globe, the Carol Burnett Award, he dedicated his acceptance speech to a raft of actors he admires rather than to his own work. He has also set up a $500,000 fund to support his striking Hollywood colleagues. Meanwhile, his talent for storytelling extends to a passion for design and architecture, which he views as the supporting act to our daily lives.
With contributions from