Grace Prince presents 'Displaced Line' at Milan's Oxilia Gallery
Grace Prince fashions materials into masterpieces in her new exhibition at Oxilia Gallery during Milan Design Week 2023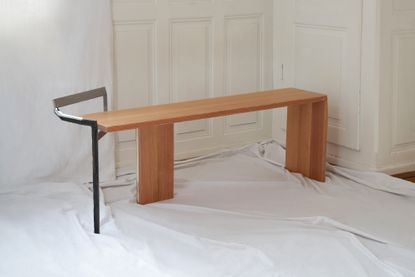 (Image credit: Claude Barrault)
Discover the Wallpaper* guide to Salone del Mobile 2023 and Milan Design Week
When a designer discusses their process, one can usually expect to hear about one of several things: experimenting with materials, perhaps, or maybe playing with the possibilities of form. But the London-born, Zurich-based designer Grace Prince subscribes to a wildly different approach. 'I'm exploring gesture,' she explains, describing her Design Week show, 'Displaced Line', at Milan's Oxilia gallery. 'I'm trying to harness the tension between static objects.'
Indeed, working with a mixed palette of materials, Prince treats a piece of furniture almost like an abstract painter would a canvas. The 'Displaced Line 1' room divider, for instance, is formed of two planes of honey-coloured Douglas fir steadied by an iron batten that bends upwards to meet a spindly tree branch rendered in cast aluminium and a steel shelf inlaid with Palo Santo wood. At first inspection, it could easily be mistaken for an assemblage of prefabricated elements, but, in fact, Prince crafts each element painstakingly by hand.
Working closely with an artisan, together they bend, twist and weld the metal until the composition clicks into place and Prince is satisfied with the result. 'I never really know where the work is going to go,' she reflects. 'I just know the process I need to stick with to get there.'
It is a process that has won her some staunch supporters 'Her work can be so strong and poetic at the same time,' remarks Alessandro Mensi, Oxilia gallery's co-founder and curator. Mensi and partner Frederik De Wachter, a cofounder of DWA Design Studio, have been showing up-and-coming designers and artists in their Loreto-neighbourhood space since founding the gallery in 2022. In the intervening year, Oxilia has become one of the most closely watched new design venues in the city. 'There is a tension that I find very alluring. I think she has reached an impressive level of maturity in her practice for such a young designer.'
At only 30, Prince has already nurtured a richly developed practice. However, she's learned from some of design's most boundary-pushing names. Shortly after studying fashion at Central Saint Martins, she pivoted to furniture design, completing an apprenticeship in carpentry before relocating to Milan to work as an assistant to Vincenzo de Cotiis. Then in 2021, experimental architect Anne Holtrop tapped her to work as a researcher in his Material Gesture studio at ETH Zurich, where she remains today.
Despite the demanding day jobs, Prince has remained faithful to her intricate methods. In developing a piece, she first maps it out using images – swathes of colour or textures cut out from magazines or downloaded from the internet and printed. 'The ignition for each object is a collage,' she explains. Once she has composed a rough sketch she then moves on to making a model, allowing her to visualise the relationships between the various elements. Finally, the working model is taken to an artisan, or several, to be transformed into the final, functional object. 'They may look fragile,' she adds. 'But they're all quite strong.'
'Displaced Line' is on view from 16 to 23 April 2023
Oxilia Gallery
Via Nino Oxilia 9
Milan
@oxilia_gallery
graceprince.com
See the May 2023 issue of Wallpaper*, on sale 13 April, for more Milan Design Week previews. Wallpaper* is available in print, on the Wallpaper* app on Apple iOS, and to subscribers of Apple News +. Subscribe to Wallpaper* today
Laura May Todd is a Canadian-born, Milan-based journalist covering design, architecture and style. In addition to the Italian dispatches she writes for Wallpaper*, she regularly contributes to a range of international publications, including T: The New York Times Style Magazine, Architectural Digest, Elle Decor, Azure and Sight Unseen. Prior to her work as a journalist, she was assistant editor at London-based publishing house Phaidon Press.