Ricardo Bofill's Les Espaces d'Abraxas hosts latest Genius Loci exhibition
Les Espaces d'Abraxas, Ricardo Bofill's postmodern housing project east of Paris, is the backdrop for the latest Genius Loci, with an installation by French artist Samuel Nguyen curated by Marion Vignal (until 25 June 2023)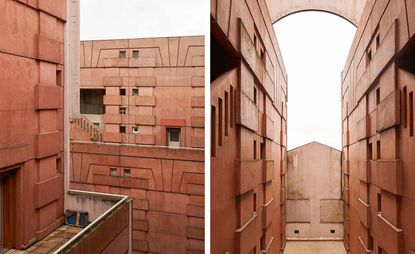 (Image credit: Adrien Dirand)
Wallpaper* Newsletter
Receive our daily digest of inspiration, escapism and design stories from around the world direct to your inbox
Thank you for signing up to Wallpaper. You will receive a verification email shortly.
There was a problem. Please refresh the page and try again.
Les Espaces d'Abraxas, Ricardo Bofill's post-modern housing project east of Paris, demands to be noticed, but has often been neglected. Now the French art curator Marion Vignal puts it into the spotlight via her association Genius Loci. Established in 2021, Genius Loci uses contemporary art to promote works of architectural heritage, inviting visitors to see them in a different way – typically with an undercurrent of emotion.
Les Espaces d'Abraxas: Ricardo Bofill's post-modern housing project
'Bofill showed that social architecture can be artistic, and have a real identity,' Vignal says. Inaugurated in 1983, Les Espaces d'Abraxas contains around 600 units, all different, spread over three buildings. Bofill (who died in 2022) used reflective glass and precast concrete in shades of sand and ochre to create an eclectic mix of references, many Classical.
The colossal, retro-futuristic complex has served as a backdrop for films, including Brazil and The Hunger Games. Pointing out concrete bridges suspended between towers, one long-time resident, Samir Rouab, describes the daily drama of living here: 'The inhabitants are masters of their lives and spectators of others.'
Genius Loci: carte blanche to Samuel Nguyen
Vignal asked 30-year-old French artist Samuel Nguyen to create an in-situ installation. 'I wanted a young artist with fresh ideas who could enter in dialogue with this place without preconceptions,' she says. 'Samuel's work is always based on encounters with people from outside the art world, with whom he creates relationships that generate artworks.'
Nguyen spent every day onsite for a month, from 8am to midnight, working with three residents who helped him to develop his project. 'Bofill talked about learning the language of social architecture,' he says, explaining that this also became his goal: 'learning and creating with the residents, understanding their experience.'
One of these residents was Mareme Fall, who has lived at Les Espaces d'Abraxas since 2004, and whose face lights up when she talks about its sense of community. Soon after she moved in, she heard that local authorities were planning to tear down the housing project, which had fallen into decay. She formed a coalition of residents, and they used their power at the ballot box to save it. Not only was the demolition averted, but Bofill renovated the site in 2014, inviting Fall and other residents to visit his studio in Barcelona.
Nguyen used Fall's archival photos as the basis for two of his works, shown in a temporary exhibition space in a former ground-floor apartment. On one wall hangs a large wax print fabric like those commonly worn in West Africa. In warm shades of orange and red, it portrays a photograph of Fall standing next to Bofill. 'Mareme feels like she belongs to two cultures,' Nguyen explains. 'It was important for her to express that.' Another artwork shows back-lit photos of residents, semi-hidden behind different coloured squares. The images disappear in direct light and then reappear in the viewer's shadow, creating a relationship between observer and subject.
The Genius Loci exhibition runs for nine days. Afterwards, the theatre of life at Les Espaces d'Abraxas goes on. Because while most see this place as a chapter in architectural history, or even the setting for a sci-fi film, for nearly 2,000 people it's home.
Genius Loci: Les Expaces d'Abraxas carte blanche à Samuel Nguyen runs 17-25 June 2023
Receive our daily digest of inspiration, escapism and design stories from around the world direct to your inbox