Gio Ponti's 'Dezza' armchair for Poltrona Frau returns in a dazzling archive print
The 'Dezza' armchair by Gio Ponti for Poltrona Frau is among our Salone del Mobile 2023 highlights, featured in May Wallpaper*, on sale 13 April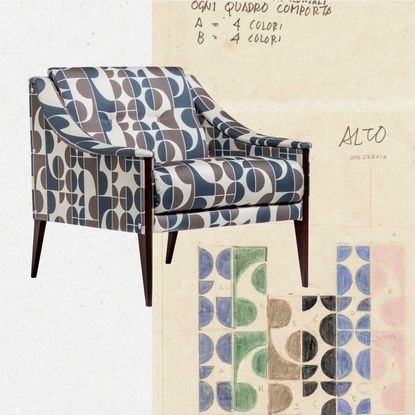 (Image credit: Courtesy Poltrona Frau)
Discover the Wallpaper* guide to Salone del Mobile 2023 and Milan Design Week
Designed by Gio Ponti in 1965, the 'Dezza' armchair, named after the Milanese street where the architect's home-studio was located, is characterised by a soft, sleek silhouette with a tapered triangular leg. The chair is available in three versions: 'Dezza 12', with a low backrest and thin armrests allowing for multiple elements to be combined, 'Dezza 48', equipped with a goose-down-filled backrest, and 'Dezza 24', a two-seater sofa option.
The chair is a fitting example of Ponti's architectural mind when conceiving furniture design: distinctive elements of the 'Dezza' chair design include tapered legs with triangular cross sections, and the essential construction - the design, in fact, is simply made of four pieces, including two sides, a backrest, and the seat.
Gio Ponti's 'Dezza' with Redevance upholstery
For Milan Design Week 2023, Poltrona Frau celebrates Ponti's design with the launch of a brand new edition, upholstered in the never-seen-before 'Redevance' fabric, which has been created from a graphic pattern originally designed by Ponti. The print has been brought back to life in careful collaboration with the Gio Ponti Archives and Manifattura Jsa, a textile company founded in 1949 by Luigi Grampa and well known for its collaborations with Ponti.
'Redevance' is a printed woollen silk featuring a signature Ponti shades of blue and grey in a pattern of simple geometric elements, broken down and replicated in sequence.
The new edition of Ponti's chair is part of Poltrona Frau's 'Pleasure Collection', featuring designs by the company's long-term collaborators as well as accessories and reissues.
Poltrona Frau's Pleasure collection is on view at the showroom, Via Alessandro Manzoni, 30, Milan
See the May 2023 issue of Wallpaper*, on sale 13 April, for more Salone del Mobile previews. Wallpaper* is available in print, on the Wallpaper* app on Apple iOS, and to subscribers of Apple News +. Subscribe to Wallpaper* today