'Homes are a mirror of ourselves': Annie Leibovitz joins Ikea as inaugural artist in residence and mentor
As part of Ikea's Artist in Residence Programme, Annie Leibovitz will spend 2023 travelling the globe to capture how people live in their homes, also leading a mentoring programme for five aspiring young photographers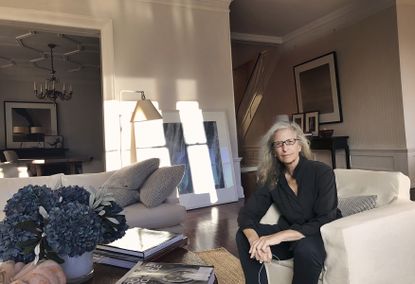 (Image credit: Annie Leibovitz, courtesy Ikea)
During Milan Design Week 2023, Ikea announced Annie Leibovitz as the first creative to take part in the Swedish company's new Artist in Residence programme.
It was also announced that Leibovitz will lead a new mentorship programme offering guidance to five aspiring young photographers aged 18 to 25 (available to enter until Friday 30 June 2023).
Maybe it's the filters, the plethora of interiors influencers and the mistrust of the media more generally, but according to Ikea's 2022 Life at Home report, almost half of us do not feel like our home lives are reflected accurately in the media. And of the 37,000 respondents, 61 per cent say their household budgets will be affected by the cost of living crisis.
'We've been in this industry for 80 years, so maybe we need someone else to look at what life at home could be for the future,' says Marcus Engman, chief creative officer at Ingka group (which controls the bulk of Ikea stores). Enter the legendary American photographer as the company's first artist in residence.
Annie Leibovitz and Ikea: Artist in Residence programme
Her brief? To photograph the nuances of real life at home. For the rest of 2023, Leibovitz will travel to the UK, Japan, the US, Germany, Italy, India and Sweden – seven of the 37 countries that took part in the Life at Home survey – capturing normal people doing normal things in normal homes. Leibovitz could not be more excited: 'I have such incredible respect for Ikea; one of one of my houses out in California has nothing but Ikea furniture in it,' she says at a press conference during Salone del Mobile, where she has just returned from shooting three Italian subjects for the project. 'Ikea is like a world in itself, and it doesn't take in how ahead of the game and important it is.'
So, can we expect images of overflowing bins, empty fridges and tatty upholstery? Probably not. Leibovitz is not known for gritty photorealism: her shoots have graced magazine covers from Vogue to Vanity Fair to Rolling Stone; they are big-budget portraits of A-list stars artfully executed with Hollywood levels of production. But, she explains, 'I learned very early on in my portrait work that you should start with your subject at home because they're going to sit in a chair a certain way. You're going to see who they are at home. On some level, our homes are mirrors to ourselves.'
But there's a big difference between capturing regular folks at the kitchen sink and celebrities. She counters: 'For the longest time, I really fought the whole idea that there was a difference. A well-known person is still a person, after all. But actually, with someone famous, the biggest difference is that there are already many photographs of that person out there; for example, when I photographed the late Queen of England (in 2007), she was probably the most photographed person in the world.'
What makes this assignment different? 'Home is now more important than ever,' she says. 'Especially since Covid and the hybrid model of working from home.' But why do people feel like they're not represented in the media, that they're left out? 'In the same way that there has been a typical idea in the fashion industry about what size a woman should be, there's been a typical idea of what a home is,' wagers Leibovitz. 'But now we've opened up in all sorts of ways, and there's a difference between a home and feeling at home. And the latter can happen in many different places and maybe that's more important now than an actual home.'
With 50 years' experience behind her, capturing these societal and psychological shifts in her subjects does not faze her. 'More challenging is how to narrow the images in the series down.' Some may be Hockney-style collages; some may not be one, but two, images. Some may appear in a book. Exactly how, when and where they will be shown is top secret. And all will be revealed at the end of the year.
Aspiring photographers aged 18 - 25 are invited to enter the mentorship programme via lifeathome.ikea.com until Friday 30 June 2023
Emma O'Kelly is a contributing editor at Wallpaper*. She joined the magazine on issue 4 as news editor and since since then has worked in full and part time roles across many editorial departments. She is a freelance journalist based in London and works for a range of titles from Condé Nast Traveller to The Telegraph. She is currently working on a book about Scandinavian sauna culture and is renovating a mid century house in the Italian Lakes.