Achille Salvagni imbues Upper East Side townhouse with understated glamour
Designer Achille Salvagni's latest project is a Manhattan townhouse whose understated design is led by function and inspired by 1920s and 1930s architecture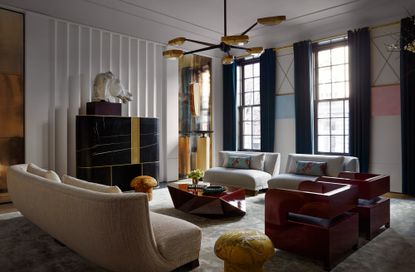 (Image credit: Photography: Stephen Kent Johnson. Art direction: Michael Reynolds)
Wallpaper* Newsletter
Receive our daily digest of inspiration, escapism and design stories from around the world direct to your inbox
Thank you for signing up to Wallpaper. You will receive a verification email shortly.
There was a problem. Please refresh the page and try again.
Achille Salvagni designs everything from houses, apartments and yacht interiors to furniture and lighting, but what they all have in common is an elegance and wit, resulting in spaces that are at once both impressive and welcoming. Salvagni – who has offices in Rome, London and New York (and galleries in the last two) – has now also completed a renovation of a townhouse on Manhattan's Upper East Side.
An Upper East Side townhouse by Achille Salvagni
The 1870 seven-storey building, which had been divided up into five apartments, was purchased by a couple, who then hired Salvagni to transform it into a luxurious single-family home, with an exterior that hints at the understated opulence that awaits inside. The front of the house is clad in limestone, and Salvagni added two oval windows, flanking the entrance on the ground floor. The Italian-born designer took inspiration from the architecture of Piero Portaluppi, whose elegant Villa Necchi Campiglio in Milan played a starring role in Luca Guadagnino's classic 2009 film I Am Love. 'A lot of the references are from the 1920s and 1930s, inspired by sophistication and simplicity,' says Salvagni.
But function does not take a back seat here. 'I wanted to make much more practical use of the space,' says Salvagni, who notes that, in many townhouses, 'kitchens are on the ground floor, primary bedrooms are above the living room, media rooms are in the basement. I reshuffled everything.'
The glass and bronze front doors open into a spacious, ground-floor entrance hall. Custom-designed marble benches sit under Salvagni's 'Acanto' sconces, alongside bronze and glass panels, the curved mullions of which evoke curtains. They flank a pair of French-polished mahogany doors, and a floor of pink Portuguese and black Belgian marble. Four of Salvagni's 'Vittoria' chairs, upholstered in turquoise with lacquered bases, adorn the space, along with his ceiling-mounted gold-plated and gun metal spherical light fixtures. (Below this floor, there is a laundry room and storage space, and further down is a 23ft-long swimming pool, sauna and steam room, and gym, with Salvagni-designed furniture and lighting. Because of building regulations, the pool had to be dug by hand, which took a year and a half.)
The entrance hall is also where an understated but spectacular staircase begins to wind its way up through the house. With its French-polished mahogany railings, hand-cut steps and pink Portuguese marble risers, the staircase looks as much like a sculpture as it does an architectural element.
The second-floor living room has a fluted plaster wall, in front of which stands a striking custom-designed marble and brass fireplace, inspired by art deco cigarette cases. The furniture and lighting, by Salvagni, includes a pair of Chinese-red-lacquered armchairs, some whimsical mushroom stools by Maison Gerard's new line of furnishings, called Under the Influence, and a bronze and onyx 'Spider' chandelier. Behind the red armchairs, a wall is covered in 24kt gold leaf, and two pastel-toned paintings by Ettore Spalletti hang between the windows.
On the third floor, the hallway outside the dining room also features a fluted plaster wall, as well as a 1950s Milanese tailor's workshop table, atop which are a lacquered tea caddy, Omerta, a sculpture by Cesare Arduini, and a midcentury black vase.
In the dining room, which is entered through a pair of marble-framed mahogany doors, Salvagni lined the walls with alpaca wool painted with a copper-nickel alloy that makes the surfaces highly reflective, and designed a large fireplace surround in brown Emperador marble. The custom-designed dining table is covered in green parchment, surrounded by bespoke oak upholstered chairs. The emerald green rug, made from hand-knotted Tibetan silk, has a circular cut-out, and the table is topped with 'Ninfa', a hand-blown Murano glass centrepiece from Salvagni's accessories collection 'Aldus'. The designer's 'Elena' chandelier, made of hand-carved onyx and burnished bronze, presides over the room.
Also on this floor, a powder room features Sahara Noir marble on the walls and vanity top. Beneath, a walnut band is adorned with Etruscan figures ('interpreted from vases from the 1920s and 1930s to the 1960s, as Gio Ponti used,' says Salvagni) in polished brass. The third floor also contains the kitchen with a sculpted limed oak island, cabinetry and floors, and Statuario marble countertops and walls. Salvagni's 'Frangipane' lambskin armchairs and a custom-designed curved banquette sit around a dining table with a Calacatta marble base, black glass top and brass frame. Above it hangs a midcentury 'Sputnik' brass chandelier by Stilnovo.
On the fourth and fifth floors are guest and children's rooms, while the sixth floor primary bedroom features elegant arched windows and an opulent bed, designed by Salvagni, upholstered in velvet, with gilded brass feet. The 'Sotirio' bedside lamps, walnut bedside tables, and the bench at the foot of the bed are all Salvagni's designs. A pair of chairs by the 20th century Italian designer Paolo Buffa flank a vintage French bronze and marble table. Salvagni made the room more intimate by 'bringing down' the ceiling, and defining it with Greek key-pattern moulding. An onyx and polished steel fireplace adds to the room's warmth.
The sixth floor also houses a dressing area, punctuated by arches inspired by Giorgio de Chirico's paintings and closets covered with velvet curtains, as well as a bathroom featuring a tub hand-carved from a single piece of marble, a marble sink, and furnishings and lighting by Salvagni.
The overall effect is one of luxurious calm and subtle richness, the hallmarks of Salvagni's aesthetic. The biggest surprise is possibly the staircase, but when you look down its spiralling oval, that same sense of disciplined glamour is expressed as an emphatic graphic. Salvagni has become an important proponent of understated luxury at a time when excess is taking over, and the world of design is the better for it.
achillesalvagni.com
maisongerard.com
This article appears in the July 2023 issue of Wallpaper*, available in print from 8 June, on the Wallpaper* app on Apple iOS, and to subscribers of Apple News +. Subscribe to Wallpaper* today
Receive our daily digest of inspiration, escapism and design stories from around the world direct to your inbox