Wallpaper* Hairstory: the most memorable hair from our archives
Picky Nicky takes us on a hair brained journey through Wallpaper* past, from Kusama's red bob to Lagerfeld's ponytail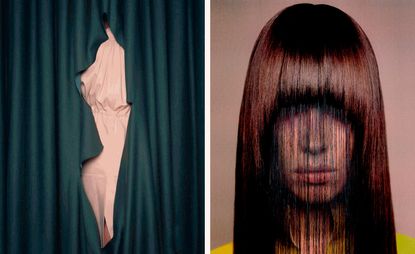 (Image credit: Brigitte Niedermair)
I have been a client at 4th floor London hairdressers for as long as Wallpaper* has been around. The founder of the salon, Richard Stepney, is a loyal Wallpaper* subscriber since 1997, contributor (he cut hair for a week as part of Wallpaper* Handmade's 'Street Barbershop' built by Studio Mumbai and Michael Anastassiades) and the subject of a Vinson View.

I used to visit Richard every five weeks and if I am honest, I don't miss the haircut as much as the banter and, in light of the last few months of cancelled appointments, I thought I would have a virtual chat about the world of hair. I had a dip into Wallpaper's digital archive from the safety of my own desk and sent off some questions for Richard to answer.
Yayoi Kusama, June 2012
PN: There are many people who regularly get their hair dyed but haven't had access to a colourist the past few months. Would you recommend a DIY job something like Yayoi Kusama's red bob on our June 2012 cover? And what do you think of wigs as a cover-up option?

RS: The success of DIY hair colouring depends on knowing that you've got the right product, there's treachery on those shelves, be careful. Trying to emulate a professional colourist's work is practically just not possible, so going bold à la Kusama is a great idea. It's not a tattoo after all. Many women that have coloured their hair for a number of years are intrigued as to what their natural colour would actually be, now's the chance to find out – if you're brave enough. Wigs nearly always look terrible unless they are crafted individually for the wearer, and it's even worse if it's supposed to be a secret. Andy Warhol got it right but he was Andy Warhol.
The claw, November 2014
PN: How long is the big beard trend staying with us?

RS: Well that image by Torbjørn Rødlan somewhat revolting, so hopefully it will only continue with men who can use cutlery effectively. Actually, this lockdown has allowed a lot of men to relax their shaving habits. Not necessarily to go full Grizzly Adams but beards are here to stay for now.
Easy lover, November 2018
PN: The hair in this photo of Jibriil Ollow by Sofie Middernacht and Maarten Alexander is an excellent example of a short back and sides, which must be the classic request. You always give me more on top, but nothing quite like this. I love that this is totally controlled but made to look like it's not.
RS: Absolutely, the short back and sides suits almost everyone in one form or another, essentially it slightly reshapes the head away from its natural roundness. This is a great example of barbershop grooming with a personalised finish. Business underneath – party on the top.
Death in Venice, September 2008
PN: I think the boys look a little like me after my shampoo at 4th Floor. I have always had a soft spot for that kind of Flock of Seagulls look, especially when making a pilgrimage to Carlo Scarpa's Brioni cemetery in our September 2008 story. Is this look still working 12 years on?
RS: I think they look great, they are young, stylish and beautiful so yes, they do look like you fresh from the backwash. Is this what you'd call directional hair – it's all going in different directions though so perhaps not. I like these looks as underneath the slightly extreme styling you can see that there is a good haircut, we'd just wear it differently now, hopefully with a more natural finish. Anyway, we all look our best against a Scarpa backdrop.
Curtain call, September 2015
PN: With no access to salons, have you been seeing a lot more fringes? I particularly like this from Brigitte Niedermair's September 2015 shoot.

RS: I think a lot of people have just been cutting their own fringe, a long fringe is something that can look great to others but can be just plain irritating to the wearer.
Human nature, September 2015
PN: At Wallpaper* we love matching everything, interiors and fashion in particular. This is is a case of matching your hair to your art, which I am sure you appreciate considering the well-chosen and well-hung works in your salon. This shoot is by artist Marc Quinn of dancer Jenny Bastet.
RS: I think this refers to style in the widest sense, in that haircuts should usually reflect the wearer's personal politics and this would include their taste in art and design. Perhaps not as literally as in this image but a haircut has to fit more than just the head and this one certainly does.
Karl's cut, October 2009
PN: Richard, you also cut my husband Álvaro's hair. He's been in Florence and hasn't seen you for a long time and his locks are getting longer by the day. Aside from Karl Lagerfeld, who shot this self-portrait for us in Versailles when he was guest editor in 2009, is a ponytail on a man ever ok?

RS: No, not anymore. The topknot or man-bun has been a more recent version, but I'm afraid a ponytail has too many associations with times gone by. I think to cultivate one now would be seen as an affectation, a little like being a leader of government and having studiously messy hair. Álvaro has perfected the Chelsea side-flick anyway so he'll be fine.
The white queen, September 2013
PN: You cropped my hair last on March 19th, and I asked for it as short as possible to last the whole summer, not knowing when I get to see you again. I have seen quite a few DIY cuts with clippers on Instagram and apparently clipper sales have soared recently. Is this kind of short tight crop just really practical, modern, and perfect for 2020?

RS: Absolutely, and if someone is thinking of cutting their own hair with clippers this all overcrop is the best shape to go for. It is, of course, practical but it can also look great on both men and women. Obviously, it's not for everyone but maybe this time is a good opportunity to try a short cut. For men, I would avoid trying to achieve the faded blend that a skilled barber does so well. For women I would say be careful, it's a very fine line between Jean Seberg and Sinead O'Connor.
Demon seed, September 2019
PN: I have straight hair and always wanted curls. What would you say to a client that turned up with a mood board for her new look with this Brigitte Niedermair image on it?

RS: I would say that they are in the wrong salon. But I would love their adventure and ambition. Something as extreme as this is clearly not functional for everyday hair-wear but if someone shows this as inspiration they would be a great client to work with.
INFORMATION
Find the latest edition of the Picky Nicky coloum and download the latest issue of Wallpaper* for free here