Momo Skin Studio, the first microcurrent facial clinic in Paris
Momo Skin Studio offers microcurrent facial treatments, harnessing regenerative technology used by astronauts, to boost your complexion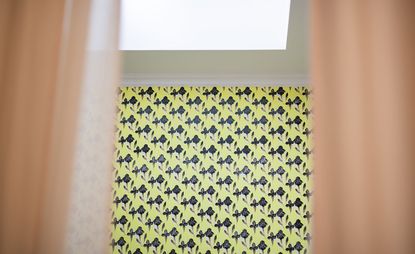 (Image credit: press)
In a serene space entered by a cobbled courtyard on rue de la Sourdière in Paris – bathed in light, and accented with plants and phosphorescent floral wallpaper by Phillippe Parreno – regenerative technology employed by Nasa is being harnessed.
It's here – through an unimposing burgundy storefront, in the building where French poet Louis Aragon once lived – that Momo Skin Studio is taking off as one of the first facial clinics in France to specialise in microcurrent facial treatments. Schéhérazade Abdelilah-Parreno is the meditative mind behind the newly opened studio, a facialist who spent two decades straddling the spheres of fashion and architecture, collaborating with Miu Miu, Prada and India Mahdavi, before obtaining aesthetic diplomas both in London and Paris and apprenticing with a doctor who focused on the role of microcurrent technology in facial paralysis.
Momo Skin Studio: microcurrent treatments arrive in Paris
A zap of microcurrent trivia: in 1980, Nobel Prize winners Erwin Neher and Bert Sakmann discovered a bio-electric current of very low intensity that energises the activities of cells, tissues and organs in the human body. Microcurrent has been employed by astronauts to encourage bodily regeneration, and is feted as a treatment by facialists that is non-invasive and needs no downtime, and is used to tone the facial muscles, boost collagen and elastin, accelerate lymphatic drainage, and create glow.
Momo Skin Studio's 30-minute signature treatment has multisensory merit. Here, microcurrent and light therapy are combined – reaching deep muscles and every layer of the face from the epidermis to dermis – as two small pulsing pads are affixed to the skin and polarised light is radiated across the face. This additional treatment is intended to boost the immune system, protect against pollution and enhance mood, as well as stimulate collagen and encourage rejuvenation. As clients relax, they are able to choose from a meditative menu of autonomous sensory meridian response (ASMR)-inducing sounds, created exclusively by award-winning sound designer Nicolas Becker.
The final facial flourish in Abdelilah-Parreno's approach? Her microcurrent treatment has been developed with Augustinus Bader, whose products, from The Rich Cream to The Facial Oil, are used alongside it.
Next time you're puffy eyed in Paris, and suffering from seriously lacklustre skin, perhaps take a stroll to Momo Skin Studio's burgundy storefront on rue de la Sourdière. You'll leave feeling lifted like an astronaut.
INFORMATION
ADDRESS
Momo Skin Studio, 18 rue de la Sourdière, 75001 Paris