Harry's celebrates Pride with design luminaries
The men's care brand collaborates with illustrator José Roda for a special campaign that celebrates creative talents within the LGBTQ community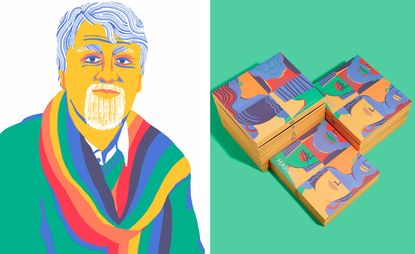 (Image credit: press)
'For me Pride means self-acceptance without exception and being part of a community that accepts who you are,' says Lee Broom, one of the 12 designers featured in Harry's latest campaign. That sentiment – of celebrating individuality within the wider context of community – is at the heart of the grooming and skincare brand's latest initiative, which once again sees it pairing with illustrator José Roda.

Roda's exuberant illustrations of celebrated designers within the LGBTQ community will be showcased in a digital gallery space launching 1 June and adorn a special edition Harry's shaving kit, available on Harry's website. 100% of the U.S. profits from this kit will go to The Trevor Project, a non-profit focused on suicide prevention efforts among LQBTQ youth. While in the U.K, £10 of every set sold will go to Albert Kennedy Trust, a U.K. national LGBTQ youth homelessness charity.

In the words of VP of Design at Harry's, Scott Newlin, 'This project is a culmination of so many things that are fundamental to us at Harry's -supporting the LGBTQ community and working with talented, creative designers. Design with Pride truly is a celebration of the individuals that sit between these worlds, and inspire us all.'

Below, we showcase a selection of the designers featured and their thoughts on what Pride means to them.
Carlos Huber
Describe a moment when being both an artist/designer and a part of this community has helped you through a difficult time / helped you find a way forward.

'Believing in yourself as an artist means you believe in what makes you different. I think embracing a creative way to live your life makes it easier for us to accept and embrace the things that make us stand out. During a difficult period, this sense of worth gives me a sense of peace with myself; that my journey shouldn't be compared or measured against anyone else.'
Cas Holman
Was there a moment (or specific toy) from your childhood that inspired you to pursue a path in toy design?

'I was 28 when I first realised that toys were my calling – as a feminist and a queer I'd always been critical of mainstream toys (even/especially when I was a kid) but as I started to explore the toys we give children and I realised how harmful they could be.

Toys should be tools to help us figure out who we are, through imagining our own stories, pretending, creating… I see many toys that tell children who they are or who they should be – tired gender tropes, plastic 'toy' versions of things rather than actual tools they are quite capable of using. By and large, the toy industry is condescending to children, and it's hurting all of us.'
Formafantasma
Describe a moment when being both an artist/designer and a part of this community has helped you through a difficult time / helped you find a way forward.

'Probably the realisation of being gay and the social stigma that comes with it was a difficult moment. At the same time we quickly moved on because we also always loved queerness in the sense of strangeness, of anything that is different than normal.

We always perceived diversity as something thrilling and the ultimate and most interesting feature of all living creatures on planet earth. The love for the unexpected and the queer is also what ultimately made us love ourselves for who we are. This might sound a bit cliche, but it is how we feel about it.'
Lee Broom
What is your motto (or words you live by)?

'Do your own thing. Vivienne Westwood said it to me when I was 18 and was working for her in the 1990s. I was about to leave my apprenticeship with her to study fashion at Central Saint Martins. It has always stuck with me since.'
Matthias Hollwich
What advice do you have for young people in the LGBTQ community who want to pursue a creative path?
Look for long term goals and different paths towards them. Growth and change are very exciting when we initiate them. Look for people in the community who support you and your vision. The LGBTQ network is very powerful and it rewarding to tap into the network - but also remember ... it is all about taking and giving - return the favor to your peers.
Mary Cleary is the Beauty & Grooming Editor of Wallpaper*. Having been with the brand since 2017, she became an editor in February 2020 with the launch of the brand's new beauty & grooming channel. Her work seeks to offer a new perspective on beauty, focusing on the pioneering personalities, product designs, and transformative trends within the industry.