Mexico City's Zona Maco is buzzing with dynamic voices from the region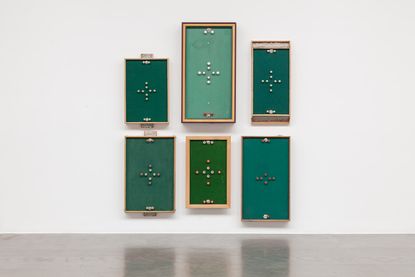 (Image credit: Omar Luis Olguín)
The floor of Zona Maco buzzed with excitement during its opening preview, kicking off the 16th edition of a fair that has officially cemented Mexico City's place on the global art world map. As Latin America's largest and most distinguished fair, over 70 galleries have turned up to showcase an array of emerging and established artists, with most hailing from the region. At first glance, it would appear that the recent election of President Andrés Manuel López Obrador has done little to temper the pace of the market, as a steady hum echoes along the expansive floor of the Centro Citibanamex convention centre.

While Zona Maco is certainly the tonier fair taking place this week – scrappy upstarts Salon Acme and Material Art Fair tend to showcase emerging talent – Zona Maco's New Proposals section lent credence to the fair's ability to blend the blue-chip with the brand new. Buenos Aires-based Galeria Nora Fisch followed suit with its mission to present dynamic voices that are as-yet flying under the radar internationally. At the fair, Fisch offers playful, irreverent works by Fernanda Laguna, a painter emanating from an impoverished Buenos Aires neighbourhood. Considering desire through the female gaze, Laguna's languid, abstract shapes dominate the canvas, but a vivid use of colour is equally memorable.
New York's Paul Kasmin gallery made a return this year, carrying a legion of works by both American and Latin American artists. Punchy, abstract works by Lee Krasner and James Nares break the monotony of white booths with bursts of color, while minimalist, textured works by Mexican artist Bosco Sodi lend visual appeal. Olga do Amaral's tactile works similarly add volume to La Cometa's booth – the Bogotá gallery regularly exhibits the most recognised Latin American artists.

Celebrated local gallery Kurimanzutto brings along the ambitious work of Eduardo Abaroa, who plans to gather enough fake gold chain to surround the entire territory of Mexico. A smaller scale version of this project hangs at the fair alongside works by Abraham Cruzvillegas, who is being exhibited at the gallery's permanent showroom in the La Condesa neighbourhood.

The fair's experimental Zona Sur section builds upon its thesis of taking the temperature of the art world by pushing forth the idea of the performative. Patricia Conde gallery's Michael Kenna disrupts the harshness of the male gaze with a series of quiet, intimate portraits of a female body wrapped into itself, exposing fleshy folds of skin. Meanwhile, Bruno Gruppalli's erotic wire sculptures offer some kink, making this section of the fair one of the raciest – and likely, our favourite.
INFORMATION
Zona Maco runs from 6-10 February. For more information, visit the website (opens in new tab)