Monument man: Xavier Veilhan on dissolving identity in his latest exhibition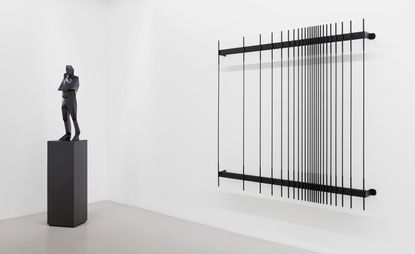 (Image credit: Claire Dorn)
Among Xavier Veilhan's seventh solo exhibition at the Galerie Perrotin are two faceted, larger-than-life, stainless steel sculptures of Richard Rogers and Renzo Piano. The pair were forged in 2013 but completed in 2017 – their forms date back to 2009 when Veilhan exhibited a series of architects at the Château de Versailles, with Jean Nouvel, and Tadao Ando also honoured.

Whereas those originals were painted inky black, these variations appear in shades of green that should register to Parisians. Rogers, standing casually with his hands in his pockets, resembles the uniforms and vehicles of the city's public cleaners; Piano, comfortably seated with his arms crossed, assumes the hue of the city's public furniture — its lamp posts and benches. Fittingly, they are destined to become Veilhan's first public installation Paris, landing in the Place Edmond Michelet alongside the Centre Pompidou, which marked a major achievement shared by the architects 40 years ago. Not by coincidence, both greens can also be detected in the building itself.

As a donation to the Musee National d'Art Moderne by the Galerie Perrotin and the Beaumarly Group (the hospitality mini-empire founded by Gilbert and Jean-Louis Costes), they arrive in time for Fiac and just ahead of the museum's exhibition of their work (the public-private arrangement also involves the Mairie of the 4th arrondissement of Paris).
It's safe to say the two men will make a bold statement, especially since they will stand five-metres high once placed on open plinths through which people can pass. But for now, hanging out in the Marais gallery, their faceless depictions of indeterminate age transmit an approachable vibe; figuratively speaking, at least, Veilhan has not put them on a pedestal.

'Richard is the coolest guy on earth; you can see his body language – it's très, très easy. It's not glorious,' he confirms to Wallpaper* during a walkthrough. 'The two of them, they are true gentleman.' Still, given the ambiguity of their features and absence of ceremonial context, they could also be perceived as two ordinary guys facing each other – a reading that doesn't bother the artist. 'Even Napoleon or De Gaule may not be recognised after all these years when they are shown in public spaces,' he suggests. 'It's like they merge into the buildings and the street. I like the way [public art] dissolves the identity of the person.'

He addresses similar questions of identity in his continuing series featuring music producers, with Pharrell, Swizz Beatz, Nigel Godrich and Philippe Zdar rendered as a group portrait that traces their full-length silhouettes as a mirror. 'You can't recognise them,' he says, noting they typically assume an invisible role in the industry. 'They are ghosts in a way, but always behind everything. It's the artists who interpret them.'

The three figures – sans Pharrell – return as smaller birch plywood sculptures on black carbon bases. So freshly finished, the scent of oil varnish lingers on their striated surface. The interesting aspect here is how the wood stacking never aligns with the sculpture's axis, so that the different planes of their bodies and clothes reveal an enhanced artisanal technique despite the digital nature of their appearance. Yet another portrait of Swizz Beatz, this time in silver, manages to simultaneously capture the stance of someone posing on the red carpet and mid-movement like Rodin's Walking Man. 'He was just doing his own tough guy pose, but I'm always aware of classic forms through history of art,' explains Veilhan.

The show's title, 'Flying V', underscores his ongoing interest in exploring acoustics within the visual dimensions of art and architecture. The Gibson guitar reference is realised as an oversized, rudimentary homage that vaguely borrows from constructivist art. Meanwhile the three-part wall series in black steel and carbon, Les Rayons (Flying V) could be alternately compared to the evocations of an instrument, or else a sleek Doppler-esque interpretation of sound waves. His take: 'I like how it's static and dynamic at the same time.'

The grouping of works, a new monochromatic smoky grey mobile included, came together as Veilhan was conceiving – and still currently overseeing – the French Pavilion at the Venice Biennale, where a classical building from 1912 has been transformed into a working recording studio. 'I am so deeply exhausted but it's very good. I'm not exaggerating when I say it's truly been a journey,' he admits. 'There are so many things I didn't know related to music recording. I watch [the musicians] work and it's incredible.' Sounds like he's making the most of this moment.
INFORMATION
'Flying V' is on view until 23 September. For more information, visit the Galerie Perrotin website (opens in new tab)
ADDRESS
Galerie Perrotin
76 rue de Turenne
75003 Paris