Art of noise: Xavier Veilhan's live sound experiment hits all the high notes in Venice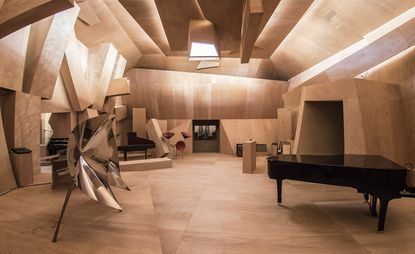 (Image credit: Giacomo Cosua)
If Xavier Veilhan's diverse artistic record is anything to go by, his offering at this year's Venice Biennale could cover pretty much anything – from film, to sculpture to architectural installation. As it happens, it reaches into an area few could have anticipated. Overseen by similarly pioneering curators Christian Marclay and Lionel Bovier, Veilhan and his atelier have created a fully functional recording studio in which over a hundred musicians will jam throughout the Biennale's seven month run.

The surprises don't stop there. Eight months ago, just as Veilhan was drawing up plans for the physical pavilion, he met creative director Rémi Babinet, co-founder of French advertising agency BETC. They talked and talked – about politics, technology, collaborations, human relationships. From these broad, questioning conversations, a singular idea stemmed: they wanted to find a way to bring Veilhan's Biennale offering to the masses.

'Initially, we didn't know what we were talking for – all I remember it was very interesting,' recalls Veilhan. 'Since BETC's skills lie in communication, we eventually realised that they could help Studio Venezia reach a broader, global audience.'

Together, they formulated a plan to build a low-fi website, Echoes of the Studio (opens in new tab), that could live-stream recordings direct from Studio Venezia to anyone with an internet connection. Hosted by Deezer (France's answer to Spotify), the graphic result sees feverish explosions of 3D radio waves leap across your computer screen in time to the live crescendos of the Venice-based music makers.
The website couldn't look more different to the smooth, wooden walls of the French Pavilion, with its stylish black grand piano and the jovially oversized wooden double bass. The distinction was entirely deliberate. 'We were both keen to keep the website and the Pavilion separate, aesthetically,' Babinet explains. 'The site works like a radio. It focuses on immateriality, so the listeners can use their imagination. This was more interesting for me than to try and represent or recreate the pavilion physically.'

This being said, the website does contain light impressions of the constructed space in Venice. Particularly in the snaking wooden beams that zigzag across the Pavilion's walls and ceiling, which half resemble the gyrating radio waves that burst in red and black.

It's abstract stuff – but that's what Babinet loves about it. 'The project so difficult to define,' he explains. 'It's not quite a concert. At any given moment, you don't exactly know what's going to happen – it's an analogy for the human experience.'

This relentless interest in the human experience is central to both Babinet and Veilhan. It's what drove them to make the visitor – or listener – a necessary asset. Those who are in Venice for the Biennale will be welcomed in to the immersive space to interact with the musicians and the instruments. Those who are overseas are similarly welcomed to click through and explore the site as they wish. 'It's something that pre-occupies many artists in my generation,' Veilhan explains. 'The exhibition does not exist without a visitor.'

As such, the whole stand has been democratised, available to every and any interested party. Veilhan makes no secret of the project's political engagements. 'We have a new president! And we feel so much better,' he announces. 'This whole process aims to preserve a certain poetry, or fragility – a softness, if you like. I hope we are now in better hands to promote this politically.'
Veilhan teamed up with French advertising agency BETC to extend the pavilion online with an experiential website. Echoes of the Studio live-streams recordings direct from Studio Venezia, transforming the sound into feverish digital graphics
Virtual radio waves leap across the computer screen in time to the live crescendos of the Venice-based music makers
INFORMATION
The Venice Biennale runs from 13 May – 26 of November. For more information, visit the Studio Venezia website (opens in new tab), the BETC website (opens in new tab), and the Deezer website (opens in new tab)
Elly Parsons is the Digital Editor of Wallpaper*, where she oversees Wallpaper.com and its social platforms. She has been with the brand since 2015 in various roles, spending time as digital writer – specialising in art, technology and contemporary culture – and as deputy digital editor. She was shortlisted for a PPA Award in 2017, has written extensively for many publications, and has contributed to three books. She is a guest lecturer in digital journalism at Goldsmiths University, London, where she also holds a masters degree in creative writing. Now, her main areas of expertise include content strategy, audience engagement, and social media.