Work life: charting the evolution of the office at Yerba Buena Center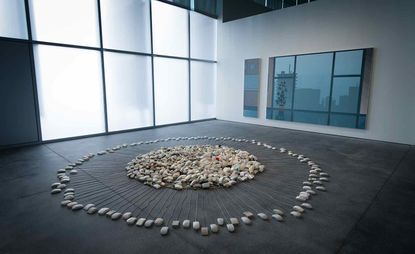 (Image credit: Charlie Villyard)
In our post-industrial society, the places we work in are evolving as much as the way we work. It is now de rigueur for the office to be anything and everywhere: the laptop is its designated synecdoche - a sign of mobile, migratory, non-stop times.

In San Francisco, where pioneers of the emerging 'virtual class' live out the California Ideology, the Yerba Buena Center for the Arts is reflecting on the meaning of the work space then, and its significance now. Inspired by Maurizio Lazzarato's essay Immaterial Labor the exhibition includes works from the 70s to today: including a newly commissioned work by Mark Benson, Open Fields (an ironic comment on confinement in office design, using the most popular artificial office plants sold by retailers such as Staples) as well as four new paintings by Los Angeles based artist Joel Holmberg, that allude to the precarious nature of freelance work - 'referencing the CMS templates created for Joomla! often used by freelancers for their professional portfolio sites' - explains the show's curator Ceci Moss.

The exhibition gives a broad picture of how attitudes to work and labour practices have changed over the decades, highlighting the way architecture, design and space influence and reflect them. Universally recognised elements of 20th century office architecture and aesthetics (screens, desk chairs, cubicles, computer mice, clinical walls) recur in works by international artists – pieces on display include Mouse Mandala by Joseph DeLappe; Pilvi Takala's The Trainee and Cory Arcangel's Permanent Vacation. There will also and a series of screenings with works by Stephanie Davidson, Jacob Broms Engblom, Manuel Fernandez, Paul Flannery, Kim Laughton and Jasper Spicero.

Many of the artists use these aspects to assert a critique against the restrictive systems the office symbolises. But as the office space gradually becomes a thing of the past, the exhibition documents a disappearing structure; political, surreal, and at times humourous 'Office Space' elucidates the contemporary shift in the West towards an immaterial work life.
INFORMATION
'Office Space' is on view until 14 February 2016

Photography: Charlie Villyard
ADDRESS
Yerba Buena Center for the Arts
701 Mission Street
San Francisco
VIEW GOOGLE MAPS (opens in new tab)
Charlotte Jansen is a journalist and the author of two books on photography, Girl on Girl (2017) and Photography Now (2021). She is commissioning editor at Elephant magazine and has written on contemporary art and culture for The Guardian, the Financial Times, ELLE, the British Journal of Photography, Frieze and Artsy. Jansen is also presenter of Dior Talks podcast series, The Female Gaze.