En pointe: 10 years at the Royal Ballet and Wayne McGregor is still dancing to a different tune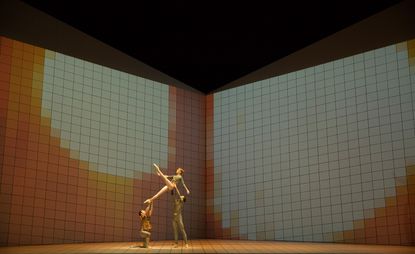 (Image credit: Andrej Uspenski)
In his ten years as the Royal Ballet's resident choreographer, Wayne McGregor has faced the wrath of the most pointy-tongued of audience members. Dancers – particularly ex-dancers – are a bitter bunch, and we pick up on every mis-step, delighting at the drama of a heavy landing. We're like this at the best of times, let alone when viewing a performance so groundbreaking that it alters the DNA of the dance form we have devoted our childhoods to perfecting. Perhaps this is why McGregor's performances garner such strong opinions. Or perhaps it is because audiences, filled with dancers or otherwise, are resistant to something truly revolutionary. Despite a spattering of negativity, and the odd lukewarm curtain call, McGregor has made a name for himself, deservedly, as the most original choreographer of our age.
He has been described as the king of adaption, a master of surprise and the busiest man in dance. He describes himself more simply, as 'present tense'. Mr Mono-track. Someone who lives in the moment. This single minded approach has been a source of criticism directed at McGregor. There's too many recurring themes in his work. He doesn't evolve enough, apparently. This critique is rarely leveled at artists working in different disciplines. 'No one would question Antony Gormley for producing multiple iterations of his sculptural forms,' McGregor writes in the programme of his anniversary, three-part performance at the Royal Opera House. 'Every artist has preoccupations, themes that they return to again and again. It's interesting in dance that these signatures are often criticised, and that artists seem required to forever change who they are.'
In conversation with Wallpaper*, McGregor owns his trademark movements proudly. 'I think, partly, my ten years at the Royal Ballet have been unified by one focused approach and message. I do have a physical signature, but the dancers I've been working with over the years have developed within this framework, and my physical signature has now become theirs.' The likes of celebrated Royal Ballet principles Edward Watson, Sarah Lamb and Akane Takada spring to mind.

This symbiotic relationship between dancer and choreographer is part of McGregor's criticism-busting appeal. His continual praise and respect of the talented practitioners he works with helps to breed longstanding, working friendships – sparking moments of jointly-constructed genius. By all accounts, he's a joy to work with. 'To strike a balance between each of the different aspects of a production – the music, design, technology, dance – you have to get great team members,' McGregor explains. 'I'm a fan, first and foremost, of everyone I collaborate with. You have to trust them with space and freedom. I think this is what my collaborators are all interested in as well – they want to be challenged.'
This being said, another questioning glance shot McGregor's way over the years has concerned the music's apparent disconnect to the choreography. Some say the music is like a film-score warbling away as the background to a cast of actors. But, as Studio Wayne McGregor's Polyphonic Playground proved earlier this year, the dancers and the music are intimately connected in McGregor's mind – just in a way we've never been seen before. In this instance, the dancers use their bodies to literally play the music, moving across and over an interactive, synthesised climbing frame.

More generally, instead of choreographing his dancers to move in time to the music, it seems McGregor just asks them to feel it. This connection, arguably more intimate than any perfectly timed port de bra is also seen in Carbon Life, first performed in 2014, and again as part of the anniversary special. Directed by Mark Ronson, contemporary musicians mingle among the dancers. Most notably, 'Dave' the rapper, whose rhythmic speaking is near impossible to dance to – yet somehow McGregor makes it work. The feeling is right, even if the timing isn't. And who cares anyway, because there's a rapper on stage, dodging the high kicks of a prima ballerina. 'The idea that "movement should describe the music" is limiting,' McGregor says of this performance. 'You have to ask: what are the landscapes that the music provides; what's the architecture of the music?'
The renowned set designers McGregor works with enjoy a similar level of creative challenge. In Chroma, the performance that bagged McGregor his resident choreographer role back in 2006, John Pawson was given free range to stamp his minimalist mark on the stage. A blank white canvas is punctuated by a flat screen of light, bathing the stage and theatre in a subtly shifting spectrum of blues, greens and greys. This clean minimalism influenced McGregor's choreographic aesethetic. In each of Chroma's many movements, nothing is wasted. Each step is essential, charged with meaning and beautifully poised. These facets have always been the backbone of ballet – McGregor just paired them with a designer who felt similarly. McGregor consulted Pawson's Minimum manifesto, which describes the perfectly minimal object as 'when every component, every detail, and every junction has been reduced or condensed to the essentials'. In this sense, the set and the choreography are moving together, in economical harmony.

There was an air of impossible cool around Chroma that McGregor has somehow managed to maintain for the last decade, aided by his stylish use of the day's technology trends. Notably, in the 2008 production of Infra, where artist Julian Opie's cartoon walking figures strolled in a stream across a stage-wide LED screen. Techno-spectacle ensued again in McGregor's 2014 collaboration with artist Tauba Auerbach, who blazoned the back wall with a series of illuminated geometric glyphs, creating the aura of a contemporary basement bar in the austere Opera House.

Technological stage settings are crucial to McGregor's new performance, Multiverse – his 15th work for the Royal Ballet. American composer Steve Reich penned a new piece for the occasion, Runner, an intense, 16 minute composition for strings, piano, wind and percussion, with no breaks or pauses. It's a challenge the dancers took on with aplomb, set to a backdrop of photographs of the migrant crisis that eventually pixelated into a giant tableau of a classical war painting. With the hyper-extented dancers twisting on stage, the scene was fiercely moving.
McGregor is an unconventional choreographer in almost every sense, so it's fitting that he didn't have a conventional path into the profession. Most choreographers go through formal dance training themselves – but for McGregor, 'choreography and the world of dance kind of crept up on me – I was born in the 1970s among the John Travolta movies, the Saturday Night Fevers. And I loved them. I wanted to come in at a creative level quite early. It doesn't matter where you start, but how creative you can be with it.' After witnessing the remarkable rise of McGregor, we're inclined to agree. But in the artist's own opinion, it's only just beginning. 'I'd love for the goalposts to move even further,' he explains. 'Ballet should be in constant change and flux. There's no limits as to what it can, or should, do.'

If the last ten years are anything to go by, we predict the next decade will see McGregor making increasingly bold use of technology, and the possibilities it offers dance. Bigger sets, bigger sound, more sass and sex. But this is the king of adaptation – the master of surprise – we're discussing, so we're not placing any bets.
INFORMATION
For more information, visit the Royal Opera House website
Receive our daily digest of inspiration, escapism and design stories from around the world direct to your inbox
Elly Parsons is the Digital Editor of Wallpaper*, where she oversees Wallpaper.com and its social platforms. She has been with the brand since 2015 in various roles, spending time as digital writer – specialising in art, technology and contemporary culture – and as deputy digital editor. She was shortlisted for a PPA Award in 2017, has written extensively for many publications, and has contributed to three books. She is a guest lecturer in digital journalism at Goldsmiths University, London, where she also holds a masters degree in creative writing. Now, her main areas of expertise include content strategy, audience engagement, and social media.