Press play: Studio Wayne McGregor lets loose on the 'Polyphonic Playground'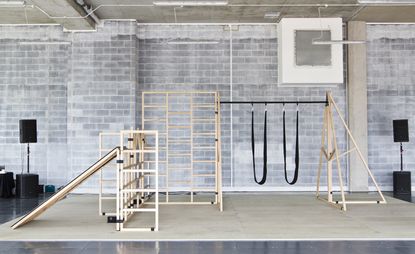 (Image credit: Katy Davies)
Studio Wayne McGregor has collaborated with dynamic young choreographer Eleesha Drennan to create a multi-sensory dance piece with a difference – instead of an accompanying band, orchestra or soundtrack, the set makes the music.

Designed by Studio PSK, the 'Polyphonic Playground' is an abstract, upscaled children's climbing frame, complete with swings, slide and monkey bars. It acts as a musical backdrop to an intimate duet danced by a male and female dancer. The pair climb, swing, and intertwine on the wooden frame, which is lined with electronic pads that emit ghostly electronic sounds and a warm blue glow at the lightest of touch, like a giant 3D synthesiser. The dancers interact with the frame with fingers, foreheads and feet – and timing is everything. Not only would the audience see a wrong move, but we'd hear it.

'For this project I am both choreographer and composer,' Drennan explains. 'At the beginning, I want it to feel like the dancers are playing the set, and by the end, it's as if the set is playing them.' As movement accelerates, naturally, so does the music. This building audio-visual tension is alleviated only by a few moments of silence, when the dancers break away from the playground entirely and focus solely on each other. In this calm juncture, its almost as if they're falling into the slow quietude of adulthood, unsupported by the childlike fun of the climbing frame.

Notable previous iterations of the 'Polyphonic Playground' have been seen (and heard) at Milan's Ventura Lambrate (2015) and at the London Design Festival (2015), but this is the first time dancers have got their hands on the frame.

They only let it go after the performance to allow audience members to play on the structure themselves. An unholy racket breaks out, proving that we're all big kids at heart, while also making it quite clear that it's not as easy as the dancers make it look to 'choreograph sound'.

This ingenious use for the pre-existing playground was dreamt up by Ligaya Salazar and Polona Dolžan of London College of Fashion's Fashion Space Gallery. Their pioneering work in multidisciplinary performance has resulted in something noisy, joyous, precise and, most of all, playful. 'Unfortunately, from here the frame will be going back into storage,' Salazar explains. 'But it will be out again this October in France.'

With details yet to be announced, and beat-boxing, full-scale bands and now dance-DJing cemented in the 'Polyphonic Playground' history, we hope the next incarnation will be just as noisy.
INFORMATION
For more information, visit Studio PSK's website or Fashion Space Gallery's website

Photography: Katy Davies
ADDRESS
Here East
Queen Elizabeth Olympic Park
London E20 3BS
Elly Parsons is the Digital Editor of Wallpaper*, where she oversees Wallpaper.com and its social platforms. She has been with the brand since 2015 in various roles, spending time as digital writer – specialising in art, technology and contemporary culture – and as deputy digital editor. She was shortlisted for a PPA Award in 2017, has written extensively for many publications, and has contributed to three books. She is a guest lecturer in digital journalism at Goldsmiths University, London, where she also holds a masters degree in creative writing. Now, her main areas of expertise include content strategy, audience engagement, and social media.