Urban Panoramas at the Getty, LA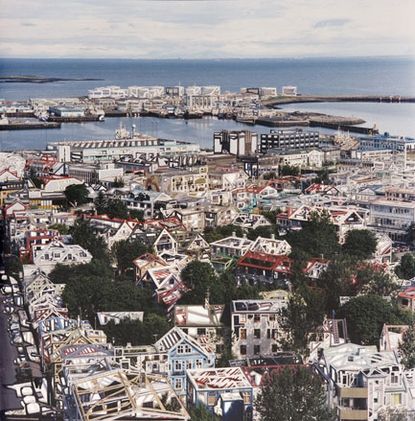 (Image credit: TBC)
Combining a trio of photographic styles for a single showing in Los Angeles this month, The Getty Museum's latest exhibition – Urban Panoramas - offers a three-prong perspective on three different cities.
With work from photographers Catherine Opie, Jeff Chien-Hsing Liao (opens in new tab) and Soo Kim taken in Los Angeles, New York and Reykjavik respectively, the show - which will remain in-situ at the Getty for three months - focuses on the architectural identity of each city.
American artist Catherine Opie has long been preoccupied with the mini-marts which litter the landscape of Los Angeles. Highlighting a city ruled by cars and convenience, Opie's images are distinctive in their deadpan style.
By contrast, South Korean-born, American artist Soo Kim, in 2005, photographed the cityscape of Reykjavik during the summer solstice - when the sun never set. Using layering and cutting techniques to produce compositions of disarming depth, Kim's photographs are almost exclusively devoid of life.
Finally, Taiwanese artist Jeff Chien-Hsing Liao – the youngest of the artists on show – has been photographing his home city of New York since graduating back in 2005. Inspired by the number seven subway line, which lies between Queens and Manhattan, Liao's repetitive series of digitally altered photographs build a dense, personal perspective on the city.
Taken as a whole, the three artists have produced an unwittingly cohesive show for the Getty (opens in new tab)'s spring slot - architectural, absent and refreshingly unadorned.
ADDRESS
1200 Getty Centre Drive
Suite 403
Los Angeles
CA 90049-1681