Uncomfortable furniture: Erwin Wurm at Galerie Thaddaeus Ropac, Paris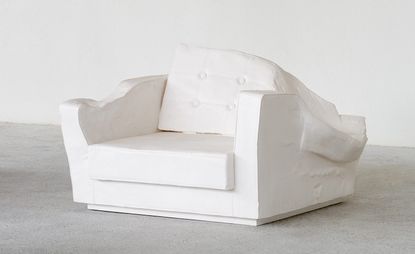 (Image credit: Galerie Thaddaeus Ropac)
Erwin Wurm is perhaps the most playful of contemporary art's major players (how could you not be if you sound like the hungry caterpillar's best mate?). He has made obese cars, marshmallow houses and curvy (much more than usual) campervans.

In his new show at Galerie Thaddaeus Ropac's Marais space, Wurm again makes the familiar unfamiliar, though the effect here is more unsettling than rib-tickling. 'Lost' is a study in materiality and domestic objects. Indeed, this is a sort of mid-century dream home gone nightmarish.

All of the objects – a sleek chaise longue, elegant sideboard or generous armchair – were originally modelled in clay, sometimes outsized, before Wurm walked on, stamped, squashed and otherwise deformed them. These deformations were then cast in bronze or polyester and painted the 'wrong' colour. The effect is triple layered dislocation.

A handsome fridge becomes a giant pat of butter, tagged Butter (Fridge). A sideboard in black patinated bronze, Horse, sags horribly and is fatally holed in its flanks. The show reminds us that an object can be wrong in a number of different ways, that our expectations of them are more complicated than we think. And when shape, colour and material refuse to play by the rules, we can feel very lost indeed.
INFORMATION
'Erwin Wurm: Lost' is on view until March 5. For more information, visit Galerie Thaddaeus Ropac's website (opens in new tab)
Photography courtesy the artist and Galerie Thaddaeus Ropac
ADDRESS
Galerie Thaddaeus Ropac
7 Rue Debelleyme
75003 Paris