Tyler Mitchell's first monograph is an ode to Black freedom
Sensuous images of carefree Black youth in I Can Make You Feel Good articulate the American photographer's vision of utopia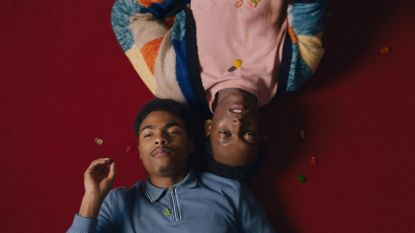 (Image credit: Tyler Mitchell)
Tyler Mitchell, the brilliant young mind best known for photographing Beyonce for Vogue US' 2018 September issue, has released a monograph titled I Can Make You Feel Good. Chronicling his work over the past few years, the book is an ode to Black freedom, rest, dreams and play.

Eschewing the traditional format of an art book, Mitchell instead opted to fill the pages with uncaptioned full-bleed images, with no concern for chronology or any formalised organisation. 'We wanted to immerse the reader in this world and an important part of that was not giving a hierarchy to the images,' Mitchell explains. The book articulates Mitchell's vision of Black Utopia, one that is too expansive to be restricted by the rigid categories of a Western, white canon.

In I Can Make You Feel Good, Mitchell presents roughly 100 images, with occasional visual breaks in the form of abstracted close-ups and solid blocks of colour. The title of the book came to him through a Shalamar song playing at the airport in Atlanta (Mitchell's hometown). It cuts straight to the bone of Mitchell's goal and his work's importance. 'The sentiment is very direct,' he says. The collection of images under this title are paired with an introduction by Tyler and four essays by art theorists who have played important roles in his professional and creative development. Mirjam Kooiman, the curator at the Foam Photography Museum in Amsterdam (where Mitchell recently had a solo show of the same title as his book), offers a meditation on the importance of creating and circulating images of Black bodies, created by Black people, and starts her essay off with a poignant Frederick Douglass quote. The abolitionist's work in the 19th century is meaningful to Mitchell in that it is an early (perhaps the first) example of a Black American man using his own image to disseminate a very clear moral demand and to elicit empathy from an otherwise unfeeling public.
Isolde Brielmaier offers a formal analysis of Mitchell's work and suggests the reader/viewer consider the power of the mundane. Deborah Willis, who taught Mitchell while he was studying photography at NYU, speaks to absence as a driving force in Mitchell's call to create. Like any teenager in the early 2000s, Mitchell spent hours on Tumblr. This is where he first saw the images that would later influence his work. 'They were basically images of youth, sensuous youth, enjoying themselves and being free. I really like that vision of young people [living] without any anxiety or stress. I was interested in centering a new protagonist within that narrative,' he shares.
An interview between curator Hans Ulrich Obrist and Mitchell at the end of the book highlights the fluidity of Mitchell's practice, which seamlessly traverses the worlds of fashion, art and film. Mitchell unpacks the importance of imagination and how it can bring about new realities. He reinforces this belief in our own conversation: 'The imaginary is incredibly important. The Black imagination is the biggest superpower we have [as a group].' Through the imagined spaces and scenes in I Can Make You Feel Good, Mitchell expands the possibilities for existing as a Black youth.

The chosen photographs span Mitchell's short, but relatively prolific career to date, including work from 'the glossies' as he refers to them – high fashion print magazines – as well as personal projects and commissions. They are vibrant, colourful and saturated, pulling the viewer into Mitchell's world. A world where young Black people can play without disturbance, explore without restrictions and display affection without the fear of ridicule. His universe is a salve for the frayed nerves and state-sanctioned exhaustion that frequently overwhelm the Black community, from childhood to old age.
Mitchell's cast of characters is carefree. Not performative in any way. Existing for themselves and their brethren. In one image, two Black male presenting figures lie in a yin yang like formation, one mid toss with a gummy bear in hand. The treats are scattered around the heads and chests of both people, wasted and enjoyed. Scarcity doesn't exist within this world. In another image, a trio lie outfitted in neutrals, on a traditionally red and white gingham picnic blanket. They look satiated and at rest, perhaps post-meal. Their slightly formal, but rumpled, attire suggests that public and untimed rest is the norm for them. Elsewhere in the book we see Black youth in the midst of various games or exercises, keeping a hula hoop balanced at mid-waist, dancing, swinging, jump roping (a particularly nostalgic nod to Black childhood) and skateboarding (which Mitchell grew up doing).

Though not his first book, I Can Make You Feel Good is perhaps Mitchell's most important and gorgeous. His vision of a Black Elysium is suspended somewhere between past, present and future – a desperately needed reprieve from the difficulties of modern life, enjoyable from wherever you stand, somehow uplifting, playful and serious all at once.
INFORMATION
I Can Make You Feel Good (published by Prestel, $60 / £45), available from 4 August. tylermitchell.co; icmyfg.com
Receive our daily digest of inspiration, escapism and design stories from around the world direct to your inbox