Prouvé, poetry, and park life collide at the Tuileries Garden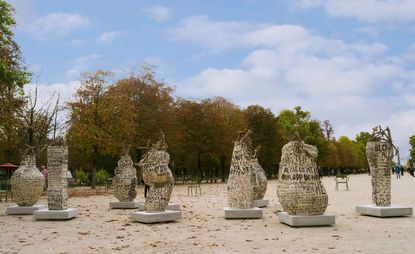 (Image credit: B Huet/Tutti)
Wallpaper* Newsletter
Receive our daily digest of inspiration, escapism and design stories from around the world direct to your inbox
Thank you for signing up to Wallpaper. You will receive a verification email shortly.
There was a problem. Please refresh the page and try again.
Each year, when FIAC kicks off in Paris, so much attention is focused on the activity that happens under the gleaming glass roof of the Grand Palais that it's easy to gloss over the public programming en plein air a short distance away throughout the Tuileries Garden. The recent attention generated by the Louvre Museum's decision to withdraw one of the works, titled Domestikator, out of concern over its suggestive sexual depiction has possibly attracted a greater audience just by virtue of the media coverage – and artist Joep Van Lieshout ultimately scored a victory with the Centre Pompidou's acceptance of the inhabitable sculpture in its piazza.

But what invariably makes the Hors Les Murs programme so pleasant is how people engaging with this art represent a far broader mix than those who attend the fair. What's more, the artists are rarely present, nor are staff from their galleries, so aside from the basic information plaques, the works feel liberated in a sense, unencumbered by back story. In the spirit of this naiveté, I chose to take a stroll as the fair got underway.

The garden has multiple entry gates, and all of them lead to art. Yet to arrive via Rue Castiglione heading down from the lustrous new Louis Vuitton flagship serves as a good starting point, certainly for architecture enthusiasts who will right away notice Jean Prouvé's maison démontable from 1944, which occupies the same footprint as the architect's schoolhouse from last year, both courtesy of Galerie Patrick Seguin. Enter into the 6x6 m wood cabin to find his signature portique. The original wood feels remarkably rustic compared to the neighbouring Christian de Portzamparc white cube of nearly the same dimensions. One of the latest models from Revolution Precrafted, its minimalist appearance in painted gypsum board and cement seems better suited to an ultra-cool pop-up gallery than a guest house.
Towards the Concorde, Yiddish words in highlighter yellow lettering scream out from a black banner thanks to Mel Bochner. For those familiar with schmoozer and kvetcher, but not nudzh (a pesterer), the FIAC website translates his selection idiosyncratic message. On the upper terrace near the Jeu de Paume is Julien Berthier's composition of leftover box pieces topped by a pigeon, all in welded steel and patinated bronze. Wait around long enough and a real bird might stop by to size up its inanimate likeness.

Back when Hors Les Murs began in 2006, works would be displayed without giving thought to selfies and Instagram. Today, a guy was having his picture taken in front of Antonio Caro's giant Colombia sign created from screen-printed Marlboro labeling. Meanwhile, a family of four tourists will leave Paris with a fun souvenir of their portrait beside Gilles Barbier's The Misthrown Dice, a giant die resembling a Super Mario mushroom. More interestingly, I happened upon art students sketching views of the garden and pointed out to one that her inclusion of Marta Pan's Lentilles flottantes, a pair of white resin space-like shapes floating in the grand basin, rendered the drawing specific to this moment, as the sculptures will be gone by next week.

Along the central passage that marks the city's Axe historique, a series of sheet metal panels by Florent Pugnaire at David Raffini begin flat like a mirror with each successively bent, as though sucked back towards the Arc de Triomphe. 'I don't know if it's art but it's well done,' an elderly woman commented to her friend. Beyond that is Patrick Saytour's temporary greenhouse pierced through with Florentine cypress trees, followed by Jim Dine's Thru The Stardust, The Heat On the Leaves, a striking arrangement of sandstone vessels scrawled with free verse that he created over the past year at the Sèvres Cité de la Céramique. Last week during their installation, he told me that he didn't create the ensemble with the outdoors in mind.
Despite such prime real estate in the Tuileries, the sprightly artist wondered whether their various forms—rigid, slouching, scalloped, boxy—could hold up to their surroundings. 'My impression is what it always is of sculpture outside; it can't beat nature. What you do is you pray that it can end up in an intimate place because [these pieces] need that,' he said as they were being spaced apart. 'I have a sort of artistic agoraphobia so it's too much. I don't mind it outside but I would like a little more enclosure.' Nonetheless, people pause to make heads of tails of his writing, which he said was loosely inspired by Claude Lévi-Strauss' letters with his parents between 1932-42. That the poem reads in the round and with no obvious structure gives the impression of the subconscious; the true creative impulse.

In a similar vein and just steps away, the giant bent nails from Los Carpinteros register as surrealist, with their rusty hue finely complementing the current autumnal palette. Next up: Ali Cherri's Flying Machine would seem to be the descendent of da Vinci's – an anachronistic vision executed to noble effect. Another apparent descendent, only this time of Brâncuși is Marc Couturier's Lame (or blade, in French); its attenuated shape leans more leaf than bird.

At this point, it's worth pointing out that a pair of George Condo bronzes are so discreetly staged within the gardens that they defy his characteristically agitated style. As for the three works by Erik Dietman, even the determined joggers seem inclined to give them a glance. One suggests a pile of teddy bears in the style of a Christmas ornament, while the others echo the otherworldly aspect of his nearby sculpture that has called the garden home for years. The one titled Le Dernier Cri could be described as a nightmarish rabbit. It may not be the most upbeat way to exit this outdoor exhibition tour, but as 'the last cry', it seems apropos. That is, until next year.
INFORMATION
Hor Le Murs is on view 19-22 October at the Tuileries Garden. For more information, visit the FIAC website
ADDRESS
Tuileries Garden
113 Rue de Rivoli
75001 Paris
Receive our daily digest of inspiration, escapism and design stories from around the world direct to your inbox