Who should represent the US at the Venice Biennale?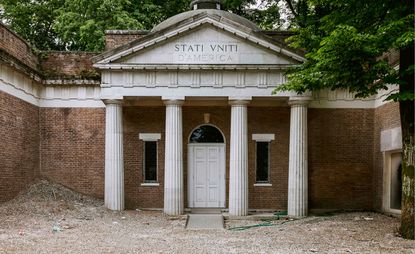 (Image credit: Joshua White)
With just nine months to go until the 58th Venice Biennale, the tardiness of Donald Trump's State Department in announcing the US pavilion artist has not gone unnoticed. In keeping with much of Trump's presidency, this months-long delay goes against traditions of previous administrations. The last two artists – Mark Bradford in 2017 and Joan Jonas in 2015 – were announced in spring the year before; Sarah Sze's appointment for the 2013 Venice Biennale was revealed in February 2012.

Unease is brewing in the wake of the State Department's apparent silence. After all, President Trump has provided endless fodder for artists and magazine art directors alike since winning the presidential election. Given the Trump administration's astounding bid to pass off his US-Mexico border wall prototypes as land art earlier this year, the Venice Biennale announcement is likely to elicit shock and surprise.

Here are four artists worthy of making their mark on the American pavilion next year...

David Hammons
Even if Hammons were offered the opportunity to represent America at Venice, chances are he would decline, as the notoriously elusive 73-year-old rarely agrees to shows and is famous for making himself scarce. He once even commented in a 1986 interview, 'I can't stand art actually. I've never, ever liked art.' Arguably one of America's greatest living artists, Hammons is a cult figure among other artists, writers, museum curators, gallerists and collectors. With prevailing concerns addressing the experiences of African-American life and the role that race plays in American society, the politically charged gravitas in his work is undeniable. Hammons at Venice in 2019 would be one of the most anticipated exhibitions in the American pavilion to ever be staged. But for an artist who has so successfully shunned the art world and is a step ahead of it at all times, we should either be prepared for a complete let-down, or otherwise brace ourselves to look into the mirror that Hammons holds up to our culture.
Cindy Sherman
Considered to be one of the world's most influential and important living photographers, Sherman's practice has remained consistent over the past 40 years, involving taking self-portraits in guises, personas, costumes, make-up and rendering herself unrecognizable. She has produced numerous images that will forever belong in the hallowed halls of art history. The 63-year-old artist recently made her Instagram account public (@cindysherman), and has over 200,000 fans flocking there to pore over her remarkable, innovative selfies. Sherman's images have changed our understanding of sexual stereotypes, identity and aging in a society obsessed with youth and status, all through the filter of a twisted lens. While many of her portraits that evoke classical paintings would sit perfectly at home in Venice, also note there has never been a solo exhibition of a dedicated photographer in the US pavilion.
Carmen Herrera
Cuban-born and New York-based artist Carmen Herrera, who is 103 years young, still works most days and is in her artistic prime. Hard enough back in the mid-20th century for any female artist to succeed, along with the complicated obstacles of being a Cuban-American, she pursued her craft for over 60 years with little recognition, not gaining wide attention until her 80s. For the past five decades, she's established a visual language which has been explored with great nuance, fashioning some of the most elegant and severe examples of hard-edge abstract painting. Honoured with a stunning retrospective at the Whitney Museum of American Art in 2016, the art world finally understood the artist's significance in the historical canon. Better late than never, and a firm believer that less is more, Herrera is a living treasure and after a lifetime of near-anonymity, her presence over the past decade has been an inspiring and vital gift. The glorious setting of Venice would only amplify her works of unapologetic beauty.
Kara Walker
An artist who explores race, identity, injustice, violence, gender and how America's original sin of slavery has conditioned all subsequent US history, Walker's devastating and gut-wrenching show in September 2017 at Sikkema Jenkins & Co in New York stunned audiences and was a critical sensation. In the era of 'fake news', her brutal exhibition found that there was plentiful truth still left in art. Walker became famous in the 1990s for large-scale, cut-paper, silhouetted figures and is now amongst the best-known artists of her generation. As her career continues to gather acclaim, and with a practice that is thought-provoking and monumental in its message, her selection for the Venice Biennale in 2019 would be timely.
Follow Vasili Kaliman on Instagram to see the art finds from his travels, and on Twitter where he shares the latest news and developments in the global art market.
INFORMATION
Venice Biennale 2019 runs from 11 May – 24 November. For more information, visit the website