Seeing through art: creatives visualise 'translucency' in Tallinn
The 8th Tallinn Applied Art Triennial's headline exhibition is a cross-disciplinary exploration of optics and the ambiguity of translucent materials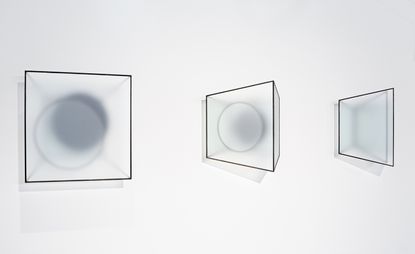 (Image credit: Hedi Jaansoo)
There are many ways for one to see art, but a cross-disciplinary show in Tallinn, Estonia is dedicated to seeing through it. Well, partially. Translucency, which occupies the strange middle ground between opacity and transparency, is an elusive starting point for a show.

In the main exhibition for the 8th Tallinn Applied Art Triennial, artists and designers are exploring the creative and critical potential of translucency. 'Translucency is neither one nor the other but can be approached as a metastable state full of potential energy. It is not dichotomous; it is a chiastic movement through pluralities and nuances of visibility and lack thereof,' says Danish glass artist and exhibition curator Stine Bidstrup.
Staged within the Kai Art Center, the show includes 21 artists from the Nordic countries, Lithuania, the Netherlands, Estonia, the UK and the US. Much like the phenomenon of translucency, the show is all about the liminal spaces between two poles: presence and absence, private and the public, individuality and collectivity, time and temporality.

The exhibition spans disciplines, techniques and materials, from glass, textile art, garments, photography, sculpture, installation, ceramics, jewellery, video, furniture, 3D printing and digital design. Participating artists include Sissi Westerberg, Linda Aasaru, Andrew Bearnot, Erin Dickson, Ditte Hammerstrøm, Heidi Bach Hentze, Sandra Kosorotova, Eeva Käsper and Helen Lee.
In tandem with the main exhibition, the triennial is also staging an extensive satellite programme that includes jewellery and glass art, site-specific installations, and events across the arts.

As Bidstrup continues: 'Translucency promotes ambiguity, a sense of mystery and complexity that allows multiple understandings of what a space, an object or an idea can be. Translucency creates depth by taking advantage of the natural assumption of a destination beyond and behind a perceived surface. Perhaps above all, the use of translucent materials enables a kind of uncertainty, a vagueness that reinforces the need to seek out visibility.'
INFORMATION
The 8th Tallinn Applied Art triennial's main exhibition 'Translucency' is at Kai Art Center until 15 August, 2021. kai.center
Harriet Lloyd-Smith is the Arts Editor of Wallpaper*, responsible for the art pages across digital and print, including profiles, exhibition reviews, and contemporary art collaborations. She started at Wallpaper* in 2017 and has written for leading contemporary art publications, auction houses and arts charities, and lectured on review writing and art journalism. When she's not writing about art, she's making her own.