Outside the box: Tracey Emin and Frank Bowling join artists in Bonhams' charity sale for Cure Parkinson's
Bonhams' Cure3 selling exhibition includes NFTs and 2D works alongside signature Perspex cubes, from Tracey Emin, Yinka Shonibare, Frank Bowling, Random International and more, on display 13-17 January 2023, London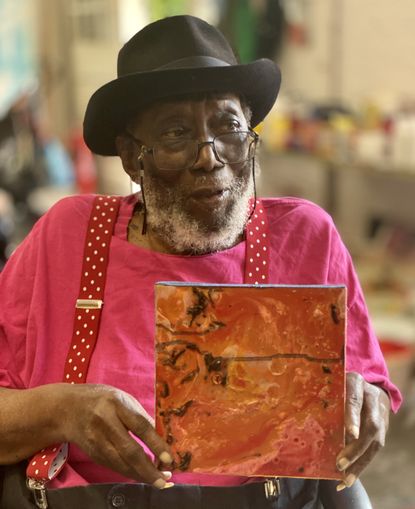 (Image credit: Courtesy Artwise)
Cure Parkinson's in association with Bonhams and Artwise will soon stage the fourth edition of its acclaimed selling exhibition.
Having held its first charity show at Bonhams Bond Street in 2017, the campaign has raised over £1.2 million for Cure Parkinsons – all starting from a set of identical Perspex cubes.
Cure3's fourth edition draws in contributions from Tracey Emin and Frank Bowling
The art exhibition-cum-fundraising event is curated by Artwise and operates in partnership with Bonhams. The display is open to the public 13 – 17 January 2023. The works are first available to buy at a 20 per cent mark-up – with all additional proceeds going to charity – on 10 January during a premium sales event. The remaining works then go on sale at their listed prices, from 9am on 13 January.
Historically, the parameters for the artworks are simple: each creative fills a 20cm-cubed Perspex box with their commission. This year, however, NFTs and 2D artworks have been added to the briefing, introducing a hyper-realistic painting from Julian Perry and an abstraction in acrylic gel and loose-leaf tea from Frank Bowling. 'We felt it was a good time to push the concept and literally think outside of the box,' explain Susie Allen and Laura Culpan of Artwise.
The format of the show was the brainchild of the exhibition's curators, Artwise, and gives each artist the opportunity to work freely, with one distinctive feature in common. The resulting works are diverse. Some make a point of using the box – as a murky plinth in Gordon Cheung's work, and a canvas in Rob and Nick Carter's Unconscious Painting, while others use it as a display case, introducing fresh layers to their practice, even if only as a one-off. 'The creativity of our "cubists" never ceases to amaze us and each response has been unique, original and different from the next one,' say Allen and Culpan of the show.
Each artist decides on their price margins, and the artists featured are selected on a first-come, first-served basis, meaning the works range from £500 to £80,000 and see Tracey Emin, Yinka Shonibare and Rana Begum among the 96 artist-strong line-up. Since its conception, over 170 artists have participated in the commissioning event, many of whom have returned with new works throughout the years.
On display to the public from 13–17 January. A premium sales event will be held on 10 January, with the remaining works on sale from 9am on 13 January
Bonhams Bond Street, 101 New Bond St, London W1S 1SR
Martha Elliott is the Junior Digital News Editor at Wallpaper*. After graduating from university she worked in arts-based behavioural therapy, then embarked on a career in journalism, joining Wallpaper* at the start of 2022. She reports on art, design and architecture, as well as covering regular news stories across all channels.