Through the lens of Wallpaper* contributor Sophie Gladstone
'Through the lens' is our monthly series that throws the spotlight on emerging photographers who are Wallpaper* contributors. Every month one photographer is commissioned to capture the upfront Newspaper section – an artist's residency in print form – here we explore their vision further.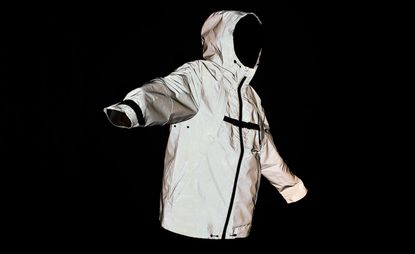 (Image credit: Sophie Gladstone)
London-based Sophie Gladstone studied photography at Middlesex University, and is now part of Wallpaper's photography desk. Her images are featured in our January issue (out now), and here she discusses her working practice.

Wallpaper*: Describe your style of work and process.
Sophie Gladstone: I'm currently exploring the pressures that undermine positive traits within us, such as desires to improve ourselves and connect with others. My aim is to work with a socially aware approach to better understand the problems we face in a world where we can all be guilty of eschewing true engagement in favour of quantity, speed and immediate likability. Photography is a tool for me to pause my participation in this, and reflect on the absurdity and manipulation.
I am quite reactive. I'll see something like a motivational weight loss quote on Instagram, or an advert for luxury vitamin supplement and I'll immediately both fall for it and resent it for the better life it promises. This knocks me off balance, so to regain some control and not allow it to diminish my self-worth, I'll repurpose elements of it in my images, pointing out how little it takes to reveal how rotten it all is. I like to bring the elements of this absurdity into my commissioned work as much as possible. I'm always looking for a way to create a double layer of an attractive and unnerving aesthetic.

W*: Who or what made you want to be a photographer?
SG: It was the first form of emotive communication that I could grasp, and now it has become something I can use to shape my identity. Also, I believe norms and values of society are strongly perpetuated by visual culture because it can be so effective, so what better way to want to question it than with itself.
W*: What's currently on your radar?
SG: Photographer Eva O'Leary for her integrity and intelligence in how she resists using Instagram to project constant perfection in her work and life. Filmmaker Deeyah Kahn for her ability to reach across extremist political divides and Matthieu Gafsou's book H+Transhumanism(s) for its insight into the blurring boundaries between technology and the self.
INFORMATION
For more information visit the Sophie Gladstone website