Through the lens of photographer Dan Ipp
'Through the lens' is our monthly series that throws the spotlight on photographers who are Wallpaper* contributors. Here we explore Berlin-based Dan Ipp's vision further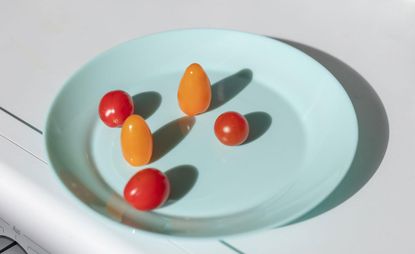 (Image credit: Dan Ipp)
Wallpaper* Newsletter
Receive our daily digest of inspiration, escapism and design stories from around the world direct to your inbox
Thank you for signing up to Wallpaper. You will receive a verification email shortly.
There was a problem. Please refresh the page and try again.
It was while studying industrial design at Rochester Institute of Technology that New Jersey-born Dan Ipp was introduced to photography by friends. From then on, it became a solution to the questions he initially tried to resolve through design.

Ipp's practice is not limited to photography and industrial design. The self-taught photographer – who also happens to be Wolfgang Tillmans' assistant – has worked across a wide range of creative disciplines. This made him an ideal match for our shoot with Dutch designer Hella Jongerius, who allowed us behind the scenes as her solo show at Berlin's Gropius Bau came together.

Here, Ipp tells us about his inspirations and hopes for the future.
Wallpaper*: Describe your style and process
Dan Ipp: My photography process is quite exploratory. I generally go on long wanders, searching to find something unusual in the mundane. There are many visual themes I'm trying to continuously fulfil, but the most interesting examples tend to fall outside of my standard themes. I see photography as a portal running to a world parallel to the one we exist in.
W*: Tell us about how you brought your way of working to this particular shoot
DI: I tried to approach the shoot with a neutral mindset, with nothing visually preconceived, to give the viewer the experience of being there. When I was studying design I was following Hella Jongerius' work quite closely so I can't say it was completely neutral. However, upon entering the developing exhibition, it felt like entering another world and I wanted to provide an intimate experience to that.
'Hella Jongerius: Woven Cosmos' at Berlin's Gropius Bau is a panoramic overview of the Dutch designer's textile and weaving experimental work. Left, Jongerius working on a piece from the exhibition. Right: Cosmos, from the Woven Systems series, at Jongeriuslab's temporary workspace at Gropius Bau
W*: What do you think is the most interesting thing happening within photography now?
DI: Photography has been mass-disseminated through society because of social media. Even though it's always been a vernacular medium, it's really accelerated the past ten years. It's exciting to see visual communities grow globally, like new digital frontiers. I'm curious to see how the value and evolution of imagery advances. Ultimately, what power does a single image have?
W*: What's on your radar?
DI: I've been diving into films by Sergei Parajanov lately, the visuals and use of audio were quite advanced for their time. It's also interesting to see him create a political stance of upholding traditional folklore while delicately defying a Soviet agenda. I find his use of metaphor, contrasting life and death, extremely compelling. It seems to balance on a thin line, which ultimately defines the value of life.

Also on my radar is spring! It's usually not my favourite season, but the first lockdown last year forced me to reflect more on my surroundings. It was exciting to observe the daily changes as the fauna emerged. It makes me more optimistic in these trying times.
W*: What's next for you this year?
DI: Honestly, I'm keeping my agenda quite open due to the pandemic. I'm hopeful that humanity can get on the same page to overcome this, what a rollercoaster we've been on already.
INFORMATION
Receive our daily digest of inspiration, escapism and design stories from around the world direct to your inbox
As Photography Editor at Wallpaper*, Sophie Gladstone commissions across fashion, interiors, architecture, travel, art, entertaining, beauty & grooming, watches & jewellery, transport and technology. Gladstone also writes about and researches contemporary photography. Alongside her creative commissioning process, she continues her art practice as a photographer, for which she was recently nominated for the Foam Paul Huf Award. And in recognition of her work to date, listed by the British Journal of Photography as 'One to Watch'.
With contributions from