The Shining: new book sheds alternative light on Kubrick's infamous film
We speak to designer Craig Oldham, editor of the new book The Shining: a Visual and Cultural Haunting about this cross-cultural reframing of Stanley Kubrick's epic film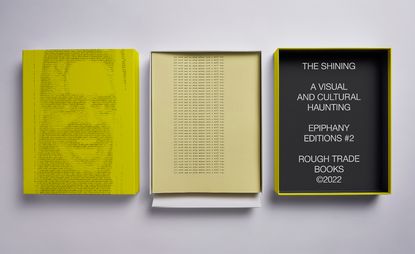 (Image credit: courtesy Rough Trade Books )
Few films carry more cultural gravity than Stanley Kubrick's The Shining. This pinnacle of the horror genre, adapted from Stephen King's novel of the same name, has been celebrated, sampled, conspiracy-theorised and dissected to saturation point. With a cult following, cultural impact and trove of symbolism this big, what's left to say?
More than 40 years since The Shining first hit screens, a new book published by Rough Trade Books is re-evaluating the film through contemporary music, art, fashion and gender, and overlooked perspectives.
At first look, the 400-page book resembles the typed writing project that Jack – the film's antagonist – pursues throughout the movie to increasing degrees of mania and destruction. But like the film's symbolism-laden plot, there are layers to unpack. Within the box, loose-leaf pages erupt with original recollections (from lead actors Shelley Duvall and Danny Lloyd); contributions from cultural luminaries (including Cosey Fanni Tutti, Margaret Howell, Gavin Turk and John Grindrod); and new essays and printed ephemera that seek to re-examine all we think we know about this pillar of cinematic history.
Craig Oldham, who edited and designed The Shining: a Visual and Cultural Haunting, admits he felt daunted, and somewhat paralysed, by the prospect of taking on such a titanic legacy. 'People have applied an almost cosmic level of exegesis to the film', he tells Wallpaper*. 'There's no point writing about something if it adds nothing new, let alone a book. But that's ultimately where we were able to find our angle.'
Oldham began exploring not only what had been written about The Shining, but who had been writing about it. He found that an overwhelming proportion of critical analysis surrounding had originated from men. 'Kubrick is a masculine director and made movies and stories fundamentally and primarily concerned with men,' he says. 'So we wanted to know what women might think about that. Or even men that didn't necessarily fit the hyper-masculine boxes present in Kubrick's films. I'd be remiss if I didn't acknowledge the fact that I am indeed a white male editing this book, but the difference is that we want the book to be a platform to showcase unheard or ignored views.'
The result is as much an ode as a critique. The creators sought to readdress this apparent gap in critique from the perspectives of women, as well as those who have real-world experience in the more complex themes in the film such as domestic violence and mental health issues. 'We felt it was pertinent to pick out the stories of domestic abuse and domestic violence, extrapolated beyond that "get out of jail free card" of it being a horror film,' he says. 'We wanted to look at isolation and mental health in the context of the closeness we now globally share with those themes after the Covid-19 pandemic.'
The book also sought to celebrate and reappraise Shelley Duvall and her 'much-maligned performance', which Oldham puts down to 'consciously or unconsciously, misogynistic male viewpoints. She is an almost unwitting embodiment of all the film's themes on- and off-screen given her apparent treatment on set and the legacy the film has had on her and he career,' he says. The book features an interview with Duvall, in which she offers rare insight into her performance and experiences on set.
For the design approach, creators sought to upend the 'impenetrable academic analysis' of the film to create something tactile, engaging and accessible. Conceived as a replica of Jack's infamous typed manuscript, contributions are printed on yellow script paper in a bespoke typeface that has been coded using punches from the same Adler typewriter used by Kubrick's character.
Presented entirely unbound, the book has no beginning or end. 'You can edit it, add to it, and change it to make it mean what you want it to mean,' Oldham explains. 'The design is an extension and embodiment of the ideas of digesting a film in different ways, but for people who might just like the film rather than want to study a PhD in it.'
INFORMATION
The Shining: a Visual and Cultural Haunting will be published by Rough Trade Books on 10 October and is available to preorder now, £50. roughtradebooks.com (opens in new tab)
Harriet Lloyd-Smith is the Arts Editor of Wallpaper*, responsible for the art pages across digital and print, including profiles, exhibition reviews, and contemporary art collaborations. She started at Wallpaper* in 2017 and has written for leading contemporary art publications, auction houses and arts charities, and lectured on review writing and art journalism. When she's not writing about art, she's making her own.