The Istanbul Art Biennial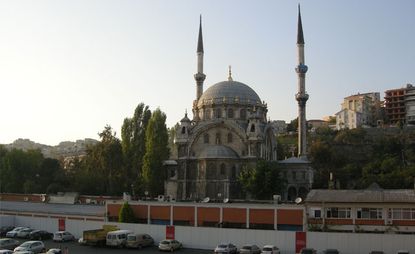 (Image credit: TBC)
As the fashion crowd sipped champagne on a floating, red-carpeted catwalk just up the Bosphorus at Fashionable Istanbul, a rather more gritty, bleak take on life was to be found at Istanbul's 11th Art Biennial downstream.
The biennial is organized by the Istanbul Foundation for Culture and the Arts, spread across three venues (a former factory, warehouse and school) and curated under the title "What keeps mankind alive?". Showing the work of over 70 artists from 40 countries, it was predominantly Turkish and in places was really very good.
Chinese art might be the headline grabber and though the din is dying down a little and eyes are turning more to India, Iran and the Middle East the emerging generation of contemporary Turkish artists deserve attention too, if the new work on show here was anything to go by.
Perhaps unsurprisingly given the title of the biennale, combined with the many conundrums Turkey faces as a nation, much of the art was angry - angry at the repressive elements of traditional culture and the destructive elements of globalization. Photography featured a lot, predominantly found old photographs or postcards - an easy way to highlight how dramatically and how quickly the country has changed, which was another recurring theme.
Democracy and the economy came in for the severest bashings though, many young artists taking the cynical approach that these lifelines of modern humanity are the source of all that is evil in the world. This thread produced the most varied work and the fine line between thought-provoking, subtle art and brash, crass pieces was where the biennale was at its best - the weaker pieces serving to highlight how strong the cleverer ones were by comparison.
The were two particularly memorable pieces. Shahab Fotouhi's 'Study For a Nuclear Bomb Shelter' - a cage with an inflatable mushroom cloud above, suggesting we're locked in nuclear destruction and there's really no protection. Unemployed Employees' (Aydan Murtezaoglu and Bulent Sangar) 'I Found You a New Job' is a performance of sorts, with t-shirt folders and perfume sprayers, out of context serving to question the futility of the widespread jobs. "We're supposed to be happy to have a job like this but what are we doing - there's no point, it's false employment doing nothing to keep people busy," Sangar explained.
Perhaps the most striking, thought-provoking work though belonged to Oraib Toukan. Part of his 'Equity is in the Circle' project was a gold calligraphic arabic text, like an old illumination, though blown up to the scale of a logo you might see on the street. Called 'Own It', the Arabic is a phonetic translation of the English phrase, succinctly capturing the spirit of the show and the underlying message to be found in so many of the works - that with globalization the social and cultural values of the most dominant powers are transplanted onto those with less authority.
Receive our daily digest of inspiration, escapism and design stories from around the world direct to your inbox