Supporters' club: the gallerists-turned-producers making artists' wildest dreams come true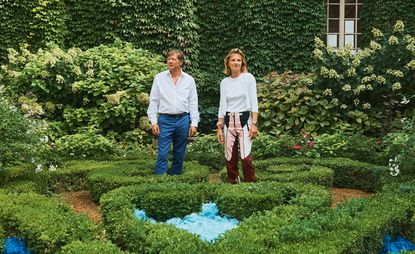 (Image credit: Benjamin Shuck)
For nearly two decades, Galerie Jérôme de Noirmont presented an enviable roster of contemporary artists at its upscale space on Avenue Matignon in Paris: Jeff Koons, Shirin Neshat, Pierre et Gilles, Keith Haring, AR Penck and many more. The art market was booming and things were good. So it came as a surprise when Jérôme and Emmanuelle de Noirmont, the ultra-chic couple behind the gallery, announced its closure in March 2013. 'Our field has changed profoundly since our opening,' their statement read. 'The future seems to lie with small niche galleries or else powerful, important mega-galleries.' To best serve their artists, they felt their business had to grow, yet they feared the Socialist government's policies would drive away wealthy French collectors. Instead of expanding, they decided to shut their doors and start something else.

In 2015, after helping all their artists find new galleries, they launched Noirmontartproduction. Embracing the art market's radical transformation, they envisioned a brand new model: producers of art, similar to producers of films. As everything in the art world grows bigger – museums, galleries, foundations, fairs, artworks, collections, egos – the industry's appetite is voracious, and many dealers have neither the time nor the means to produce art at such a pace.
This is where the de Noirmonts come in, offering made-to-measure production services ranging from financial assistance to technical management. Already they've helped to realise installations, sculptures and films for galleries and institutions around the world, from Berlin to Mexico City. As for their business model, they admit they are still figuring it out. At times they wait until a work is sold to recoup their investment and take a cut of the proceeds. Sometimes they receive an artwork as payment. At other times they help finance a project because they believe in it, wanting nothing in return. 'We can't expect huge profits,' Jérôme says. 'We are no longer dealers.'

Such uncertainty has never bothered the couple. Their gallery signed Jeff Koons in 1996, when many others wouldn't touch the artist, fearing the kind of cost overruns and production delays that forced the Guggenheim Museum to cancel a retrospective that year. In 2000, the de Noirmonts financed Koons' Split-Rocker, an immense and complex stainless steel sculpture covered with tens of thousands of flowering plants. 'We took a big risk, but it seemed essential,' says Jérôme. The couple came out ahead and laid the groundwork for a friendship that continues today.
'We take utopian projects and bring them to life,' says Emmanuelle. This often means coming up with the money to pay for a project, and it's frequently their own. In 2015, Parisian gallerist Frank Elbaz told Jérôme about an installation that one of his artists, avide Balula, wanted to create for the Parcours sector at Art Basel. Half an hour after meeting Balula, de Noirmont agreed to finance the project. Called Painting the Roof of Your Mouth (Ice Cream), it involved roaming cycle carts handing out ice cream to passers-by. The ice cream (by Michelin star-winning chef Daniel Burns) came in flavours that reflected Balula's oeuvre, such as burnt wood. Originally, Balula imagined an ice-cream parlour and one cart; Jérôme insisted he create two. 'It was more expensive, but more visible,' de Noirmont says. 'This work needed to serve as a trampoline.'

Elbaz says the de Noirmonts have filled a need: 'They intervene in the beginning, so that a project can exist, and then later on, using their network to give it the best possible visibility.' The dealer has worked with the couple again to co-produce Sheila Hicks' textile installation Apprentissages. Part of the 2016 Festival d'Automne à Paris, the work is showing in three parts: at the Musée Carnavalet (where it featured in September), in various shopfronts (currently), and at the Théâtre Nanterre-Amandiers (9 to 17 December).
Sometimes the de Noirmonts work directly with artists – again, not as dealers but as producers. When conceptual artist Loris Gréaud needed funds for the post-production of Sculpt, his feature-length film, they stepped in, even though the movie would never break any box-office records. Starring Willem Dafoe and Charlotte Rampling, Sculpt played daily this summer at the Los Angeles County Museum of Art, but to only one spectator at a time. Folly? 'It doesn't matter,' says Jérôme. 'The project had to exist.'

Gréaud says it was reassuring to meet people who believed in investing in something that 'made sense', not just profit, and that the de Noirmonts' approach is extremely rare today. 'They never asked me to put their name in the credits, never asked where their logo would go, never requested that it be placed at the entrance,' he says. 'Just once, they asked me very nicely if they could put my film on their website.'
Their financing also permitted little-known French artist Eva Jospin to realise Panorama: a grotto-like installation with a mirrored surface on the outside and a 360-degree cardboard forest inside. It was Emmanuelle's idea to show it in the Cour Carrée of the Louvre, where a contemporary artwork had never been exhibited, and they made admission free so a maximum number of people could attend. Between April and August this year, 300,000 people saw Panorama, which is now set to travel to other cities around the world.

Sometimes the couple act as consultants, applying their experience of the industry's nuts and bolts. When New Galerie in Paris was preparing to present an aluminium sculpture by New York-based Artie Vierkant for the 2015 FIAC art fair, it assumed the work would be made in the US. But the de Noirmonts had the piece built less expensively in France, which also served to avoid transport fees and import taxes. 'Art is an economy,' Jérôme says. 'Production is important. On average it represents at least a third of the price of a work.'
The couple's current undertaking is their most important yet: a ten metre-high sculpture, to be permanently installed in a public space in Paris, and to honour the victims of the November 2015 terror attacks. It will be a gift from the artist, but there are many details to iron out: financing, permission, technical aspects, the artist's extremely high standards.

Again, the de Noirmonts are working behind the scenes, in the belief that the project must be realised. 'I will take great satisfaction in bringing my grandchildren to see it, knowing I had something to do with its existence,' says Jérôme. 

As originally featured in the December 2016 issue of Wallpaper* (W*213)
INFORMATION
For more information, visit the Noirmontartproduction website
Receive our daily digest of inspiration, escapism and design stories from around the world direct to your inbox