Taryn Simon: book and solo show at Tate Modern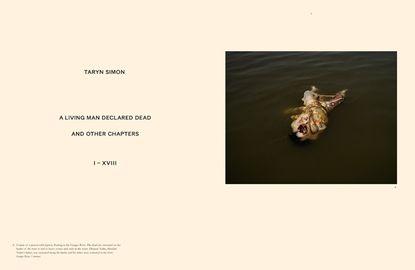 (Image credit: TBC)
Wallpaper* Newsletter
Receive our daily digest of inspiration, escapism and design stories from around the world direct to your inbox
Thank you for signing up to Wallpaper. You will receive a verification email shortly.
There was a problem. Please refresh the page and try again.
When previous projects have seen American artist Taryn Simon meticulously collecting 1,075 images of items seized from passengers entering the US from abroad, or the careful, laborious documentation of wrongful convictions in the US, your first impression may be of the incredibly political, obsessive and, one could almost argue, geeky nature of her work. The fact that she is the current darling of the art photography world, recently named 'an Annie Leibovitz of the conceptual world' by the Observer, and the guestlist at her recent opening at the Tate Modern included Stephen Spielberg, Cameron Diaz and Gwyneth Paltrow, may not be immediately obvious.
But then, that is probably how Simon would prefer to keep things. Despite being represented by Larry Gagosian, and her work being acquired by leading institutions including the Museum of Modern Art and the Whitney in NY, the Getty Museum in LA and the Pompidou Centre in Paris, her deeply serious and politically fraught work certainly shows no signs of being penetrated by the glitz and glamour that may currently be buzzing around her.
Her latest incredible body of work, a four-year odyssey entitled 'A Living Man Declared Dead and Other Chapters', currently showing at the Tate Modern in London and presented in an extensive and beautiful tome published by Mack, is a complex, multi-layered study of descendants of 18 different bloodlines from around the world, each with an arresting story at its heart. With 817 portraits systematically arranged, including 'empty' portraits representing living members of a bloodline who could not be photographed, the chapters include the story of an Indian man who discovered that he and members of his family had been listed as dead, an Iraqi man who was employed as Saddam Hussein's son's body double and test rabbits in Queensland, Australia which were first introduced there in 1859 for hunting purposes, but which the authorities are today struggling to keep under control.
Presented in a strict, structured appearance resembling an encyclopaedia, the ordering stands in stark contrast to the emotional elements embodied in the stories including violence, resilience, corruption and survival.
Born and brought up in New York, Simon was always passionate about photography, although she studied environmental science at Brown University. After having work published in the New York Times magazine and gaining a Guggenheim grant, her big break came in 2003 when her first book, The Innocents (Umbrage Editions), received huge critical acclaim. She has since had two further books published by Steidl, An American Index of the Hidden and Unfamiliar (2007) and Contraband (2010) and solo shows across the globe including the Whitney in New York, Museum Fur Moderne Kunst, Frankfurt and P.S.1 Contemporary Art Center, New York.
Next stop, the Venice Biennale, of course. And we, for one, can't wait to have a first peak. Check back next week to see our coverage of Simon's photographs at the Danish pavilion, and other work on show at the most significant art event in the world.
Receive our daily digest of inspiration, escapism and design stories from around the world direct to your inbox