London's Design Museum becomes a supermarket selling artist-designed essential items
The Design Museum shop will turn into 'Supermarket' designed by Camille Walala and will sell competitively priced items including toilet roll, porridge oats and coffee, in packaging created by emerging artists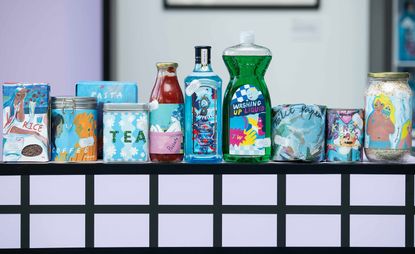 (Image credit: Bombay Sapphire)
Under the UK government Covid-19 restrictions, London's public museums will remain shuttered until 17 May 2021. But the Design Museum and Bombay Sapphire have thought up an inventive solution to welcoming back art- and design-deprived visitors for a vital dose of creative fuel. Taking advantage of non-essential retail restrictions lifting on 12 April 2021, the Design Museum shop will transform into a pop-up supermarket stocking its shelves with essential sundry items packaged in artworks created by a line-up of emerging artists.
Ten emerging artists and designers were hand-selected to create original artworks for the essential stock, and hail from myriad backgrounds and disciplines. They comprise Charlotte Edey, Holly Warburton, Isadora Lima, Jess Warby, Joey Yu, Katherine Plumb, Katie Kimmel, Kentaro Okawara, Michaela Yearwood-Dan, and Ruff Mercy. 'It's about the role of creativity and the all-pervasive nature of design and creativity, how it involves all areas of our lives. But it's also giving a platform to designers who wouldn't normally get the opportunity to design this sort of quotidian packaging,' says Tim Marlow, chief executive of the Design Museum.
The products will include kidney bean tins and face masks by Kentaro Okawara, pasta boxes by Holly Warburton, toilet rolls by Michaela Yearwood-Dan, rice boxes by Joey Yu, washing-up liquid by Jess Warby, and Bombay Sapphire gin and tonic bottles by Ruff Mercy. 'The past year has been really challenging for artists who haven't been able to show work or collaborate as normal. "Supermarket" is a great way to not only support the Design Museum, but also shine a spotlight on the ten brilliant young artists who through this project have a new platform for their work,' Walala explains. All proceeds from the initiative – which will be available both 'in store' and online until 25 April – will be directed towards the Design Museum's new Emerging Designer Access Fund, a 'pay it forward' scheme that offers free Design Museum tickets to up-and-coming artists and designers, supported by Bombay Sapphire.

The space will be a hybrid of gallery and supermarket, decked out in Walala's signature immersive, polychromatic design and pattern clashes. The artist, who is known for vibrant outdoor and indoor interventions, drew inspiration from 1980s supermarkets and the Memphis design movement for the project. The exterior of the supermarket resembles a collage: bold pastel colours punctuated by stark black and white stripes. Inside, the colour riot continues with an eclectic meld of patterns and hues including Bombay Sapphire Blue on the floor tiles. 'Camille uses colour in an incredibly inventive way that is both gently confrontational but also immersive and reminds us of joy, energy and verve', says Marlow.
Each product in the supermarket will be available in a (somewhat generous) limited-edition run of 1,200 per item, offered at similar price points to goods found on regular supermarket shelves. 'We wanted the pricing to be accessible because that really underscores the point of this, that creativity is essential and we wanted people to buy pieces of art at everyday prices,' says Natasha Curtin, global vice president of Bombay Sapphire, a brand that has a track record for collaborations with emerging artists. 'I just hope we don't have people stockpiling our beautifully designed and not overpriced lavatory paper at the end of it,' Marlow adds.
INFORMATION
'Supermarket' will be open physically and online from 21-25 April 2021 at the Design Museum
ADDRESS
224-238 Kensington High St
London W8 6AG