Studio Droog sets up camp at the Museum of Sex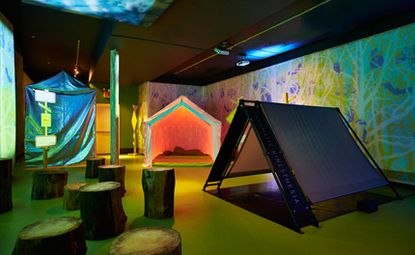 (Image credit: Paul Barbera)
Amsterdam-based Studio Droog has pitched up at the Museum of Sex (MoSex) in New York, unveiling an immersive erotic campground complete with five multi-sensory camping tents made from bespoke patterned fabrics, a campfire, log seats, and a constantly-changing 'sky'.

The installation - which will remain on show for a year - is the second in a series of kinaesthetic art commissions by MoSex, and follows on from Bompas & Parr's 'Funland' from last year. Entitled 'Splendor in the Grass', Droog's immersive adult playground tantalises and titillates, enticing visitors to interact with the various installations and connect with various phases of human sexuality.

The first tent, 'Autoerotic Kinesthesia', conceals a kaleidoscope of mirrors, prompting those who enter to explore every inch of their bodies. 'Pneumatic Kinesthesia', meanwhile, offers an erotic spin on Twister, encouraging visitors to engage in various body positions, and 'The Ice Oven Challenge' tent warms as your basal body temperature rises.

'Most people - and in particular city-dwellers - live an encapsulated life,' explains Droog of the inspiration behind its show. 'While camping we play at being out in the wild, in nature, which is often a sexually liberating context.'

Other tents include 'Wetten Your Appetite', a steamy cloud chamber filled with the heady scent of pheromones (and also where visitors can grope anthropomorphic, latex walls), while 'Grass Girl Arouses' promises to gently arouse you with touch and sound as you lay down next to her. Now that's what we call a happy ending.
'Most people - and in particular city-dwellers - live an encapsulated life,' explains Droog of the inspiration behind its show. 'While camping we play at being out in the wild, in nature, which is often a sexually liberating context.'
ADDRESS
Museum of Sex
233 Fifth Avenue
New York
Receive our daily digest of inspiration, escapism and design stories from around the world direct to your inbox