Video artists tap into the future with immersive installations in a brutalist London building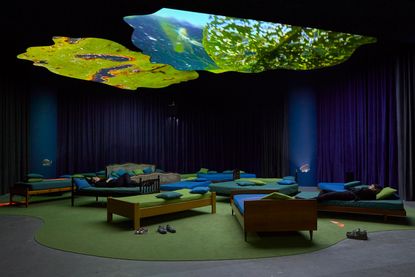 (Image credit: Maris Hutchinson / EPW Studio)
'Strange Days: Memories of the Future', an off-site exhibition by New York's New Museum at The Store X, London, takes its name from a 1995 science fiction film by Kathryn Bigelow and James Cameron. Set at the turn of the millennium, the film imagines a world in which people get their thrills from watching videos in first-person view, thus trying on the recorded experiences and sensations of others.

'In other words, it's about the birth of virtual reality,' observes Massimiliano Gioni, the New Museum's artistic director and curator of the London exhibition. Unlike its cinematic counterpart, the show doesn't involve any headsets, let alone brainwave-transmitting circuitry, but it's addictive all the same.

Within a three-level space in the bowels of the brutalist building 180 The Strand, Gioni has brought together 21 video and film installations, each by a contemporary artist who has exhibited at the New Museum within the past decade. Ranging from Turner Prize winner Laure Prouvost to American director (and mastermind of Beyoncé's Lemonade) Kahlil Joseph and Egyptian artist Hassan Khan, the selection is reflective of the museum's programme: geographically diverse, visually enthralling, and thematically sound.
It begins, appropriately, with Camille Henrot's Grosse Fatigue, created for the 2013 Venice Biennale (also curated by Gioni). The 13-minute piece shows a series of browser search windows alongside archival activities at the Smithsonian Institution in Washington, DC, while the background narration tells of creation myths across countries and cultures. The aim is to show the breadth and limitations of human imagination and endeavour. 'It explores knowledge and delusions of omniscience, which is very much what this show is about,' remarks Gioni.

The ensuing works follow the same wistful tone – Ed Atkins' CGI work Happy Birthday!! speaks to physical and semantic disintegration, while Pipilotti Rist's 4th Floor to Mildness invites the viewer to lie down in bed to gaze at video projections on the ceiling, imbuing poetic underwater scenes with haunting undertones. Further down, Swedish artist Klara Lidén's The Myth of Progress shows her moonwalking through the streets of Manhattan by night, which appear eerily post-apocalyptic on the grainy image.

One level below, the show turns to explore the relationship between technology and identity, sexuality and desire. Jungle of Desire, an animated work by Hong Kong artist Wong Ping, centres on a struggling animator who dreams up a revenge plot on a client of his sex-worker wife. Bursting with colour, the piece projects a jovial tone at odds with its tale of repression. Meanwhile, Lili Reynaud-Dewar's almost-monochrome Teeth, Gums, Machine, Future, Society (One Body, Two Souls) shows the performance artist, wearing only silver bodypaint, dancing dynamically among Bruno Gironcoli's metallic sculptures, disrupting their stolid immortality.
There are dramatic shifts in mood along the way – for one, Ryan Trecartin's Item Falls, a raucous live-action piece parodying contemporary reality television, is placed next to Prouvost's introspective Into All That is Here, which highlights a yearning for sensuality in a world of flat screens. And the snaking layout of the show encourages immersion and provides the viewer with less autonomy than a more conventional configuration) 'It might be a little prescriptive of me,' admits Gioni, 'but I like shows where the viewer discovers the show and the show unravels for them.' Judging from the lingering crowds, the viewers seem to agree.

On the lowest, and final level, the UK debut of John Akomfrah's Vertigo Sea takes centre stage, collaging spectacular seascapes and images of violence and environmental destruction to tell the story of the Atlantic. But it's a work by Brazilian artist Jonathas de Andrade, O Peixe [The Fish], that steals the show. The camera hones in on fishermen in northeastern Brazil as they catch and then hold their prey to their chests, in an intimate yet mortal embrace. This invented ritual, viewed through an exoticised lens, paints a complex and poignant portrait of humanity.

The Icelandic performance artist Ragnar Kjartansson is given the last word with A Lot of Sorrow, which documents a six hour concert by indie rock band The National in New York. The band performs only one song, their 2012 ballad Sorrow on loop. There is an unusual beauty to their repeated expressions of melancholy, or as Kjartansson himself put it, 'in the saddest of songs there is happiness'. And it is on this surprisingly hopeful note that the visitor emerges in the open, 'Strange Days' now past.
INFORMATION
'Strange Days: Memories of the Future' is on view until 9 December. For more information, visit the New Museum website (opens in new tab), the Store X website (opens in new tab), the 180 The Strand website (opens in new tab) and The Vinyl Factory website (opens in new tab)
ADDRESS
The Store X
180 Strand
London WC2R 1EA
VIEW GOOGLE MAPS (opens in new tab)
TF has been editor of Wallpaper* since December 2020. He is responsible for our monthly print magazine, planning, commissioning, editing and writing long-lead content across all our content pillars. He also plays a leading role in multi-channel editorial franchises, such as our annual Design Awards, Guest Editor takeovers and Next Generation series. He aims to create world-class, visually-driven content while championing diversity, international representation and social impact. TF joined Wallpaper* as an intern in January 2013, and served as its commissioning editor from 2017-20, winning a 30 under 30 New Talent Award from the Professional Publishers' Association. Born and raised in Hong Kong, he holds an undergraduate degree in history from Princeton University.