'Sculpture 4tet'? A new four-man show at Marian Goodman Gallery, London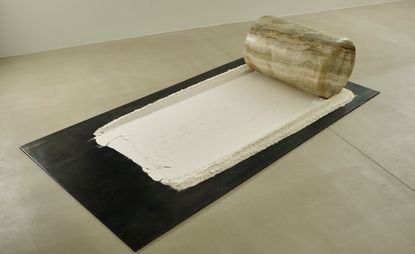 (Image credit: Stephen White)
'Sculpture 4tet', a new four-man show at London's Marian Goodman Gallery, asks a simple question: what is sculpture? The question is anything but simple of course, given the formal breakdown of 20th century art. Sculpture, installation, seemingly random arrangement of random objects – definitions are slippery.

'Sculpture 4tet' brings together works from the Italian Luciano Fabro, French artist Jean-Luc Moulène, the American Bruce Nauman and Danh Vo, who was born in Vietnam but now bounces between Berlin and Mexico City. It's a deliberately multi-national and multi-generational quartet (Fabro was born in 1936 and died in 2007 while Vo was born in 1975 and is still very much alive).

Each, the exhibition argues, takes the myths and methods of classical sculpture and renews them but never forgets them. And all reference the human figure, if sometimes by its absence. Fabro's Sisofo, for example, plays beautifully with Sisyphus' rock, and the eternal, absurd human struggle of its endless up and down. Here the rock is a more elegant, if still relentless, roller. Moulène's Knot-Knot adds a distorted blue lump to a muscular steel frame while elsewhere he plays with grotesque masks. Nauman's Shit in Your Hat - Head On A Chair is, indeed, a head on a chair backed by a video installation while Vo's Do you know what she did, your cunting daughter? (there is visceral humour in the titles as in the works themselves) balances a 14th century wooden Madonna on top of a Greek marble sarcophagus from the 2nd century AD, a sort of classicist's readymade.

The show is a chamber piece of sorts, four voices singing old tunes in new ways.
INFORMATION
'Sculpture 4tet' is on view until 20 February. For more information, visit Marian Goodman Gallery's website (opens in new tab)

Photography: Stephen White. Courtesy the artist and Marian Goodman Gallery, New York, Paris & London