All about Saul Leiter, the zen master of street photography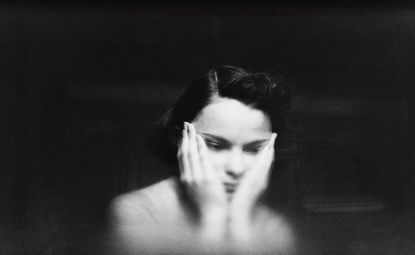 (Image credit: © Saul Leiter Foundation, Howard Greenberg Gallery)
Saul Leiter was born in 1923 in Pittsburgh, the son of a renowned Jewish theological scholar. His family expected him to follow his father – to attend theology school and become a Rabbi. Leiter dutifully did so, spending his early twenties immersed in the teachings of the Talmud at a theology school in Cleveland.

But an interest in another kind of deity kept pulling at him. Leiter was fascinated by abstract art, and, at the age of 23, to the horror of his devout family, he dropped out of theology school, got the bus to New York, found a home in the Manhattan's East Village and enrolled in art school.

Leiter's early paintings are awash with colour, in the lineage of expressionists like Willem de Kooning or Franz Kline and impressionists like Pierre Bonnard and Édouard Vuillard. He became immersed in the ornate minimalism of Japanese art, particularly the revolutionary ukiyo-e printmakers of the 18th and 19th centuries. Names like Hokusai, Tawaraya Sōtatsu and Hon'ami Kōetsu, with their use of calligraphy, block statements of colour, and ma – a Japanese spatial concept of negative space, 'the nothingness where, infact, everything happens', as the Japanese historian Kōtarō Iizawa terms it.
Through his classes, he befriended the painter Richard Pousette-Dart, an abstract expressionist who was on social terms with the photographer W Eugene Smith. The American photojournalist, in turn, opened Leiter up to a circle of friends and rivals – the founding members of the humanist photographic movement known as the New York School of Photography; Robert Frank, William Klein, Richard Avedon and Diane Arbus. Photography, Leiter decided, was how he would dedicate his time.
Until his death at the age of 90, on November 26, 2013, Leiter was not well known beyond industry circles. He worked for fashion magazines – most notably Vogue and Elle – and gained photojournalistic commissions throughout much of his life. But he was never renowned or celebrated as a great visual artist in the way Arbus or Frank are.

Indeed, the photography industry was not always kind to him. In the early 1980s, Leiter found it more and more difficult to find work. He fell into debt, and had to sell-off the studio he had always used on Fifth Avenue. It sparked a withdrawal from public life, and for much of the rest of his days, he lived and worked in a reclusive, solitary fashion.

Leiter's apartment was near Saint Mark's Place. He lived there for the entirety of his life in New York, and the vast majority of the many thousands of photographs he took of the city were taken within two blocks of his home. There's an irony here, for, while he would never have known it when he first moved in, Saint Mark's Place gradually became Little Tokyo – one of the largest communities of Japanese people living anywhere beyond the homeland.

It is this private, personal photography that is leading to a reappraisal of Leiter's work. As a new monograph by Thames & Hudson attests, Leiter should be remembered as one the great pioneers in the history of photography – a bedrock for anyone interested in how colour can be arranged in a frame.

Leiter used an inexpensive 35mm camera, and would purposefully shoot with aged or environmentally-damaged film. He used the smoke that snaked from the city's pavements, or the steam that collects on the windows of a cafe, or the churned snow on the streets, as ways to manipulate the saturation of light, the contrasts of focus, and the sheen and tone of colour of his photographs. He would use oblique angles, or push the more human elements of the image to the edges of the frame. Rather than focus on the expression of someone's face, he would hone in on the red of an umbrella, the green of a traffic light or the yellow of a passing taxi as the gravitational epicentre of his images.

As such, and unlike his New York School contemporaries, Leiter wasn't a classically humanist photographer. He didn't seem that interested in using his camera as an instrument for social change or moral imperatives. Instead, his photography can best be understood as quasi-abstract, more concerned with compositions of light and interpretations of geometry.

And, as Pauline Vermare writes in the new monograph, this might be understood through Leiter's belief in a very Japanese concept: 'Saul lived in accordance with the mayor zen principle of not attaching any great significance to himself, or even his art, and having no defined purpose or intent in life except for being present to the world and always highly aware of its fleeting beauty,' Vermare writes. 'Not preaching, just looking.'
INFORMATION
All About Saul Leiter, £19.95, published by Thames & Hudson